As efforts to conserve water during the current hot spell continue, a hosepipe ban comes into effect today in the Greater Dublin Area.
The Water Conservation Order will remain in place until 31 July.
However, Irish Water said it will keep the situation under review and may extend the period of time the order is in place.
Hosepipe bans are likely to take effect in parts of Laois, Kilkenny and Limerick over the coming week, and the ban may extend further to other counties.
---
What is prohibited?
Irish Water says the prohibited use applies to the use of water drawn through a hosepipe or similar for the purpose of:
watering a garden
cleaning a private motor-vehicle using a domestic hosepipe
cleaning a private leisure boat using a hosepipe
filling or maintaining a domestic swimming or paddling pool (except when using hand held containers filled directly from a tap)
filling or maintaining a domestic pond (excluding fish ponds) using a hosepipe
filling or maintaining an ornamental fountain (with the exception of such use for commercial purposes)
use of water for filling or replenishing an artificial pond (excluding fish ponds), lake or similar application.
---
What is the Greater Dublin Area?
The order covers the area outlined in red in this map.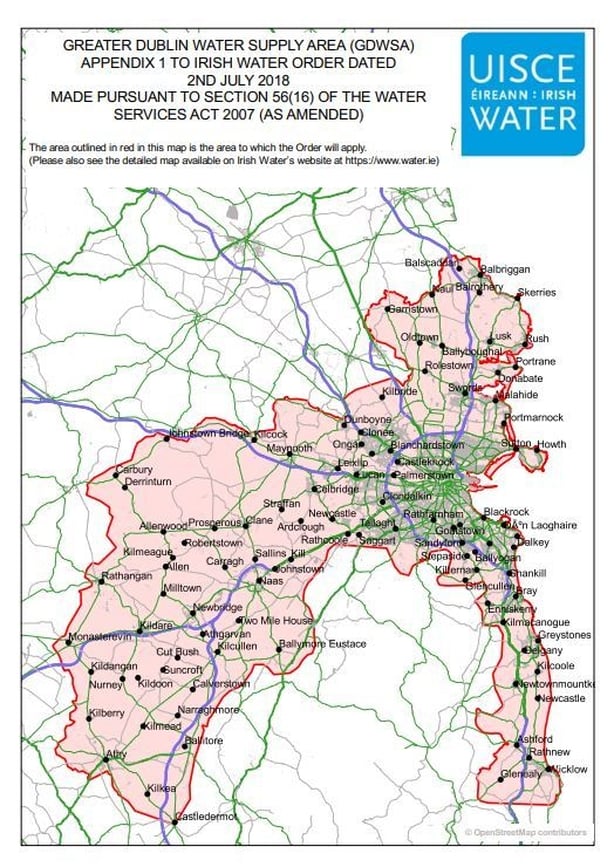 ---
Enforcement of ban
Irish Water Managing Director Jerry Grant said the utility does not have the resources to police water usage on any large scale and use water meters to monitor use.
However, he said, if there are reports of over usage, they will contact those responsible and if they do not engage and reduce use, they will follow through with enforcement.
The Taoiseach has said there were penalties available under law to allow that people be fined or prosecuted for wasting water; those found in breach of the ban could face a fine of €125.
However, Leo Varadkar said that was not the approach that would work best.
The best approach, he said, was to ask people "do the right thing and be good citizens".