A seventh man has been arrested in connection with the seizure of over 2,000kg of cocaine off the Cork coast this week, which gardaí say is the largest haul in the history of the State.
The arrest of the Dutch national came as gardaí continued to interview crew members on the MV Matthew bulk container ship where the drugs were found.
Six other men, three Ukrainians, two Iranians and a UK national, were already in custody. Two of them have had their periods of detention extended by a judge.
All seven men are being held at garda stations in the southern region.
The military operation involving the Naval Service and the Army Ranger Wing, which boarded and secured the ship carrying cocaine worth an estimated €157m, has now concluded but the investigation continues.
Officers from the Garda National Drugs and Organised Crime Bureau have been interviewing the 25 crew members who were on board when the ship refused to stop and tried to evade capture with counter manoeuvres to get to international waters.
The forensic examination of the MV Matthew, which is under armed guard in Cork harbour, is continuing.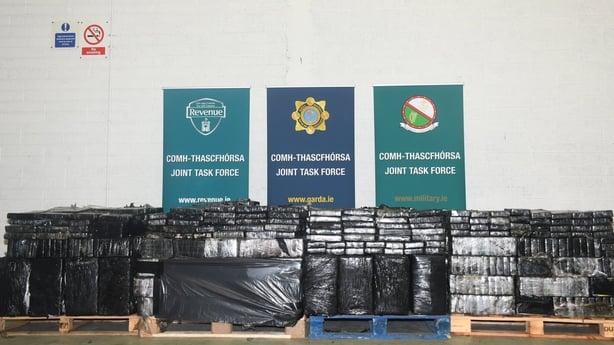 The trawler that ran aground off the Wexford coast on Sunday night remains wedged on a sandbank and is still being monitored.
It will also be searched, but at this stage gardaí do not believe there are any drugs on board.
Of the seven men arrested, two are from the trawler and five are crew members of the MV Matthew.

---
Read more:
Curaçao to Cork: What we know about MV Matthew's journey
Three more men arrested over 2.2 tonnes drugs seizure in Cork
---
Minister for Justice Helen McEntee was in Brussels today as EU ministers met representatives from Latin American countries to discuss a joint fight against drug trafficking and organised crime.
Speaking on RTÉ's Morning Ireland, Ms McEntee rejected the idea that Ireland was seen as a "soft touch" by criminal gangs who smuggle drugs by sea, and said this week's seizure shows "we are very much in the game".
She said: "Ireland is anything but a soft touch, this is a seizure worth €158m worth of cocaine.
"This was an operation led by An Garda Síochána working collaboratively with our Defence Forces, our Naval Service, Revenue Customs, but also with intelligence from our counterparts right across the water and right across Europe.
"What is shows is that we are very much in the game, that we are very much part of a joint effort to take down these crime gangs."
An operations with 'many threads' - Garda Commissioner
Speaking at a meeting with the Policing Authority, Garda Commissioner Drew Harris described the drug seizure as a complex operation with "many threads to it".
"Obviously there is the drugs, and there is the movement of the drugs, but there is also lines of inquiry we wish to follow," he said.
Mr Harris said a significant part of the garda investigation will be "how the logistics of all of this was managed in terms of both the shipping and the trawler, the individuals as well.
"So a lot of work left to do."
He said it was a "significant capture" given the logistical effort and loss of revenue to "probably a number of transnational crime gangs".
The commissioner highlighted the importance of international relationships, and Ireland's Garda Liaison Officer network for relationships and the fast transfer of information.
"I have to pay great credit to our own Defence Forces who did a tremendous job in terms of the fast response to interdict this vessel and then the exceptionally dangerous operation it was to successfully board it and take seizure of it while securing the evidence and while securing suspects as well," he said.