Around 1,000 people have taken part in a march and rally in Cork to press for changes to the Government's housing policy.
The event was organised by the Raise the Roof group, made up of a coalition of trade unions, housing and homeless agencies, political parties and social, civic and community organisations.
It wants the State to play a direct role in the provision of more affordable homes and public housing and is seeking greater security of tenure and rent certainty for tenants.
Martin Leahy is a 47-year-old professional musician from Bandon in west Cork.
In January last year he wrote Everyone Should Have A Home, in response to the threat of eviction which he continues to face, and performed his song this afternoon.
Mr Leahy is one of those on the receiving end of what he calls the failure of government housing policy.
He has been renting since he first moved to Cork city around 25 years ago.
Since he was served with an eviction notice by his landlord, he has been searching for a new place to live, with no success.
"This is the first time that I have gone out into the market and not been able to find a place," Mr Leahy told RTÉ News at the Raise the Roof protest.
"Availability and affordability are big issues. I live in the country and I have a car, but I can't even find a remote place.
"I have been in my current house for six or seven years. That was the last time I was out in the market and it has changed so much.
"There just don't seem to be any options when you are looking. I have been trying now for around a year and a half.
"That's when I got word and that is how long I have been looking."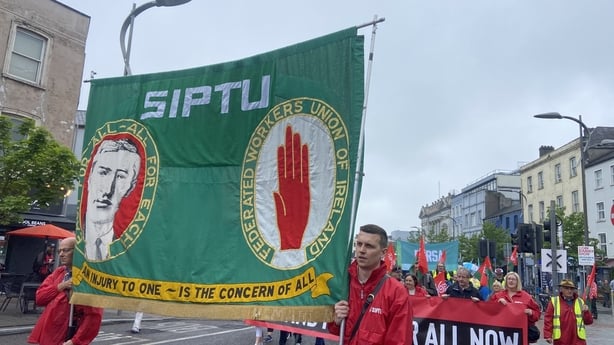 'I just felt helpless'
Every Thursday, Mr Leahy takes a bus from Cork to Dublin to pitch up outside the Dáil at lunchtime to protest about the housing crisis.
He says he does it to give a voice to people caught up in the housing crisis.
"I do it because I just felt helpless," he says.
"When I wrote the song I was asking 'what can I do', and what I can do is music and sing my song and voice my frustration."
Mr Leahy says his protest about homelessness and the housing crisis "always feels worthwhile".
He has been making that weekly trip to Dublin to protest outside the Dáil for 57 weeks.
"It feels like I am making a contribution," he says.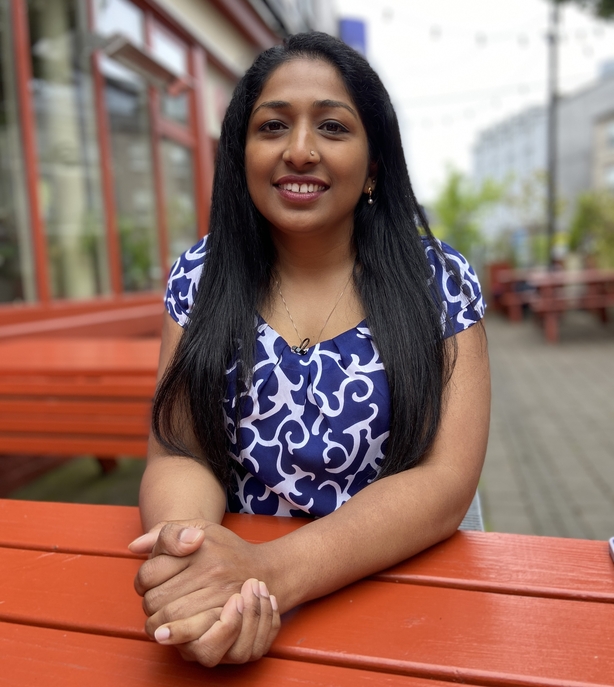 'It's nearly impossible'
Janet Baby Joseph was at this afternoon's Raise the Roof rally too.
Ms Joseph is a nurse who came to Ireland from India just over six years ago.
She works at Cork University Maternity Hopsital and lives in Bandon with her husband and two boys, aged eight and 11.
Ms Joseph is one of a huge contingent of Indian nurses now working in the Irish health system.
In Cork alone, there are more than 800 Indian nurses working in healthcare in the city and county.
They are a vital part of the solution to the nurse shortage in every part of the country.
Ms Joseph says there could be many more Indian nurses working in healthcare here, but they simply cannot get places to live.
And, she says, many who moved here have already left in frustration, having failed to find a home for themselves and their families.
Ms Joseph is secretary of Cork Indian Nurses, which among other things, helps new arrivals to find a home.
Most stay with friends or family already here when they move to Cork first.
In fact, so desparate are employers to recruit qualified nurses, many offer a month's accommodation to anybody prepared to make the move.
The problems start when the month runs out.
"It's nearly impossible," Ms Joseph says. "I know at least 10 families who have moved to Australia recently because of accommodation issues.
"The problem is they leave their families back home in India and the nurses come here on their own.
"Their kids and partners are back home in India and, unless they get a house, they won't be able to bring their families over here to Ireland.
"These are nurses who would have left their families in India, moved to Ireland to take up jobs here and then move out of Ireland to Australia or New Zealand because they can't find suitable accommodation here, either for themselves but mostly for their families too.
"The ones looking for accommodation for themselves and their families find it so hard, and that is why they decide to go. Some of my own friends have moved and others are planning to go."
Ms Joseph says that, in addition to the lack of housing availability, quality is also an issue, with damp and sub-standard properties being offered for rent.
"Many are staying for a maximum of three to four years before they give up and move," she says.
"And they would have moved here with the intention of settling here and raising their families here.
"Every single nurse who has come here in the last three years for sure has gone through this difficulty."
Today's march and rally was the second one organised in Cork by Raise the Roof.
Two other rallies have already taken place in Dublin.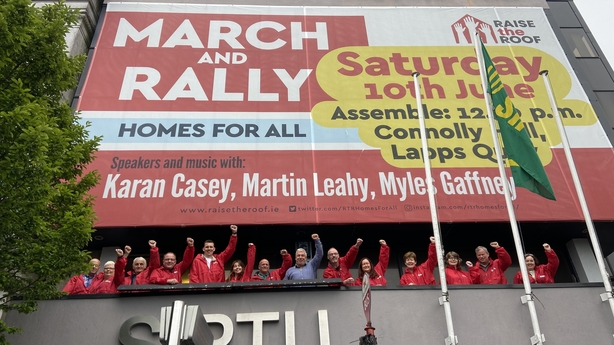 'Housing catastrophe'
Raise the Roof spokesman Adrian Kane says there will be more over the coming months at regional centres throughout the country.
"There are very few people in this country that this housing crisis doesn't impact upon, from the people who are homeless, from aspiring families looking for home ownership, to people who are spending literally years on the housing list with no opportunity of getting a house," Mr Kane told RTÉ News.
"This is a housing catastrophe - that is what we are looking at. It is a huge problem nationwide."
Mr Kane said average rents in Cork are now over €1,400 and the average price of a house in the city is over €360,000.
The Raise the Roof campaign is seeking a State-led housing programme with affordability at its centre; the retention of all public lands in public control for affordable and cost-rental homes and a programme of refurbishment of vacant properties.
The group was established five years ago to campaign for changes in government housing policy.
During Covid it organised online webinars, which were addressed by housing experts, and has also organised public meetings at a number of locations nationwide.