Gardaí have confirmed that a wild goat was brought down from its cage at Puck Fair in Co Kerry this morning.
'King Puck' is a symbol of the long-running fair in Killorglin.
The goat had been scheduled to remain in its cage until Friday, and there had been concerns about its welfare due to the warm weather.
Temperatures have so far reached 26C in some parts of the country today.
It's understood a local vet decided shortly before noon that it was too hot for the goat to remain suspended in its cage.
A spokesperson for the fair said the goat is now "resting in the shade".
"He is checked several times a day and this morning the vet decided it was too hot for him," she said.
The goat is likely to be hoisted back up once temperatures ease, but that decision will not be made until later today.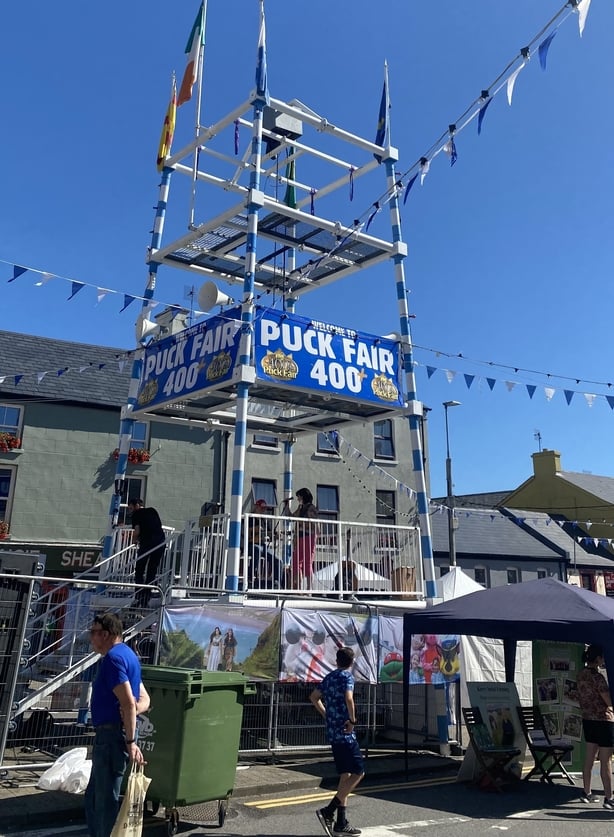 In a statement, Puck Fair said the welfare of King Puck is their "highest priority".
"Due to unprecedented spells of hot, sunny weather, King Puck was removed from the top of the stand this morning and placed in the shade with a constant supply of cold water and food, and is receiving hourly vet check-ups that continue to show that the goat has a good bill of health," the statement said.
The festival, which attracts thousands of visitors to Killorglin in south Kerry, got under way yesterday for the first time since the Covid-19 pandemic.
The four-year-old wild goat was crowned King Puck yesterday evening by 12-year-old Queen of Puck Aleesha Williams, before being hoisted into place atop a 50-foot stand in the town.
In a statement, the Department of Agriculture said: "The Department is aware of recent public discussion in relation to Puck Fair and the possible impact of a predicted heatwave on the welfare of the goat.
"The Department has been in contact with the independent private veterinary practitioner attending the Fair and welcomes the decision of the organisers, which has today been communicated to the Department, to take the goat down at 11.30am this morning."