Sceilg Mhichíl reopened to visitors later today following a rockfall there last month.
The Unesco World Heritage Site is a key part of the south Kerry tourist infrastructure.
Every year, thousands of people take boat trips to land on the rock and climb to the ancient monastic settlement at its summit.
Thousands more take boat tours around the skelligs which are also recognised internationally as significant breeding grounds for colonies of several species of birds.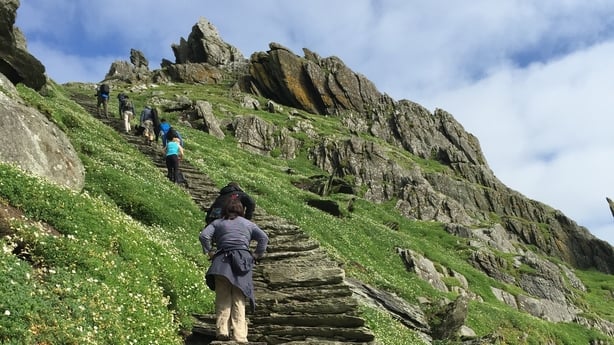 Sceilg Mhichíl reopened to visitors on 14 May, and was open for less than a month when a rockfall forced its closure.
Nobody was injured, but OPW staff and contractors have spent the last fortnight clearing debris, carrying our repairs and conducting a safety audit before the decision was made to reopen.
Visitor numbers to Sceilg Mhichíl have increased since the rock was used as a location in a number of Star Wars movies, peaking at more than 15,000 in 2019.
The Office of Public Works District Foreman of Sceilg Mhichíl, told RTÉ's News at One that it takes ongoing work to maintain the island but that things will be safer for visitors now.
Pat O'Shea said that rockfall occurs from time to time and dry weather had a lot to do with it this time.
He and his team had been doing a lot of work of extending the canopy, to protect the people using the pathway or road when coming up from boats, which involved a steel structure with wood planks on top so any stone in the future will slide off the plank and go into the water below.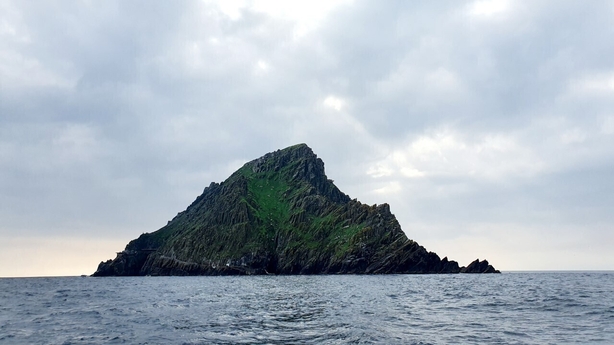 He said it will take ongoing work to maintain the steps, pathway, pier and pier ropes, which starts in May and to September, but a lot of it is weather dependent and sometimes workers can be marooned there from time to time.
Mr O'Shea said in response to this, they make sure they have plenty of supplies, as once or twice a year they could be there for two weeks depending on the swell, particularly when hurricanes come from the Atlantic, when swells can last three or four days or a week.
He said that having tourists back is a big boost for the area, and that there was a big interest in it already but since Star Wars it added another reason for people to see the island.