More than 200 international tourism operators are in Killarney, Co Kerry, for the Meitheal trade event where they are expected to book millions of euro worth of business in the accommodation and leisure sectors in Ireland from next year onwards.
Meitheal is an event where Irish tourism businesses pitch to international buyers. Deals done at Meitheal lay the foundations for the trade here for next year and beyond.
It is the first time in three years that the event is taking place in person.
Before the pandemic, tourism was a €9.5 billion industry in Ireland, supporting around a 250,000 jobs.
Coronavirus, bans on international travel and restrictions on movement in Ireland devastated the sector.
Across 2020 and 2021, coronavirus forced a reduction in tourism activity in Ireland to just one-third of its 2019 level, but it is building back again.
More than 400 Irish tourism businesses are represented at this year's Meitheal event, pitching to over 200 international tourism buyers and tour operators from 19 countries.
Meetings are timed to 12 minutes each. Thousands of pitches and conversations will take place in the INEC over two days, both formally during sessions and afterwards.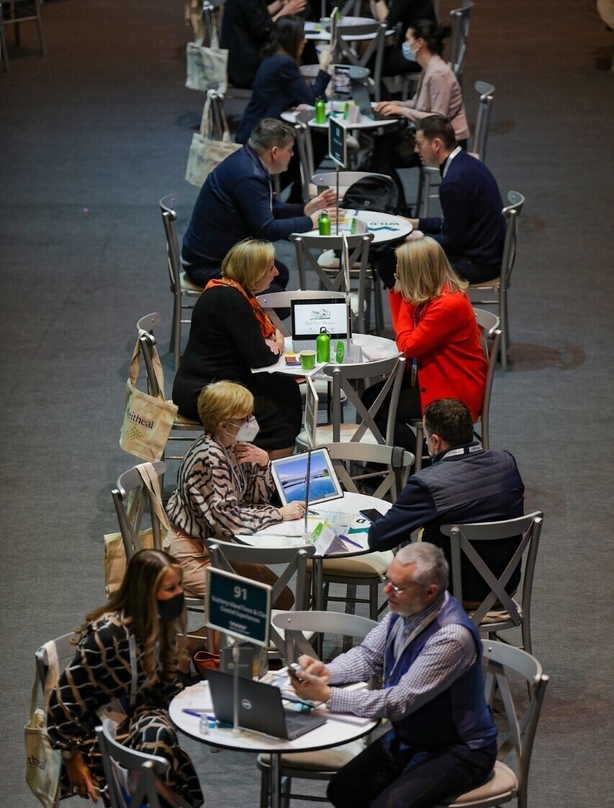 It is a huge opportunity for the Irish tourism industry, says Fáilte Ireland CEO Paul Kelly.
"Each international buyer here at Meitheal represents tens of thousands of possible visitors," he said.
"The opportunity to influence their travel itineraries for 2023 and beyond is invaluable and will be hugely important for tourism and hospitality businesses, communities, and destination Ireland as we work towards recovery."
Minister for Tourism Catherine Martin is also attending the event.
"The significant number of international buyers attending shows the pent-up demand that exists," she said.
"As a Government, we have invested heavily in Ireland's tourism offering over many years and, for a small island, we have a huge amount to offer from world-class scenery, hospitality, activities, attractions, culture, heritage and food."