Broadcaster John Creedon has been named Cork Person of the Year.
At a function in Cork city this afternoon, a hall of fame award was presented to Caitriona Twomey of Cork Penny Dinners.
The judging panel said John Creedon received his award for representing the best of Cork city and county through his broadcasting and writing.
The judges also said he had ignited a new love of Ireland during the recent Covid lockdown period, through his television series 'Creedon's Atlas of Ireland', and his book, 'That Place We Call Home'.
Organiser Manus O'Callaghan said: "John Creedon is the quintessential Corkman and indeed the Creedon family have always been one of Cork's first families.
"John loves Cork, his sense of place and his own tribe. His most recent TV series and book show the layers of meaning behind place names of Ireland's 63,000 townlands and reveal stories about our country and the people who walked it before us."
Caitriona Twomey received her hall of fame award as representative of Cork Penny Dinners and a team of volunteers who supply thousands of freshly made meals every week to those in need.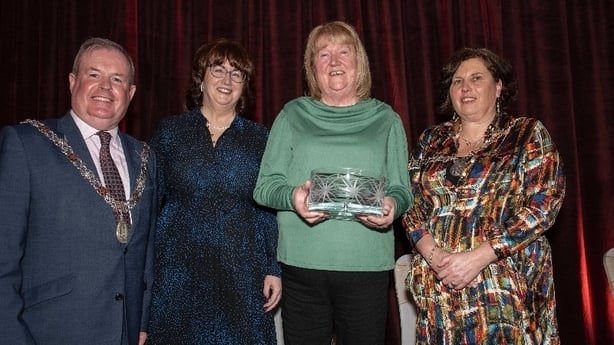 Award Organiser Ann-Marie O'Sullivan said: "Penny Dinners must be one of the most admired and loved organisations in Cork. They always keep an open door, no questions asked."
Honorary Cork person designations were bestowed on international singer-songwriter Donovan and his wife, Linda, who have lived in north county Cork for many years. He is still performing today at 75 and his wife and muse Linda Lawrence is a collage artist, transcendental meditation promoter and environmentalist.
The Irish Examiner was also honoured to mark the 180th anniversary of the newspaper group.
Managing Director of the Irish Examiner and The Echo, Mikey Sheehan, accepted the award on behalf of the newspaper.
Speakers at the awards lunch included RTÉ Director General Dee Forbes, Minister for Public Expenditure and Reform Michael McGrath, and Bishops Paul Colton and Fintan Gavin.
The Cork person of the year was chosen from the Cork persons of the month selected over the past year.
The award judges were Tim Lucey, Chief Executive of Cork County Council and Ann Doherty, Chief Executive of Cork City Council.