A five-year-old boy with leukaemia, who fled from Ukraine with his family, is being medically assessed in Ireland, ahead of resuming his treatment.
Doctors urged the parents of Leonid Shapoval to leave Ukraine last Thursday, telling them there was no more they could do for him.
The family is now with relatives in west Cork, following the decision by the irish Government to waive visa restrictions for relatives of Irish people fleeing Ukraine.
Victoria Walden came to Ireland from Ukraine on a work visa in 2001. She lives near Ballydehob with her husband David.
Ms Walden is Leonid's grandaunt while her niece, Yana Shapoval, is Leonid's mother.
Ms Walden told RTÉ News that Leonid's parents, Yana and Serhiy, did not need to be told to leave twice when Leonid's doctors urged them last Thursday to make their escape from Ukraine.
Nevertheless, the decision was still a heart-breaking one. It was also dangerous.
Leonid was diagnosed with leukemia last July. For the past several weeks, he has been receiving chemotherapy in hospital in Kyiv.
He spent the last three months living in a sterile room at another hospital in Cherkasy, closer to his home, and was due to get a bone marrow transplant on 10 March.
He was also due to have one final chemotherapy session when his treatment was halted by the Russian invasion.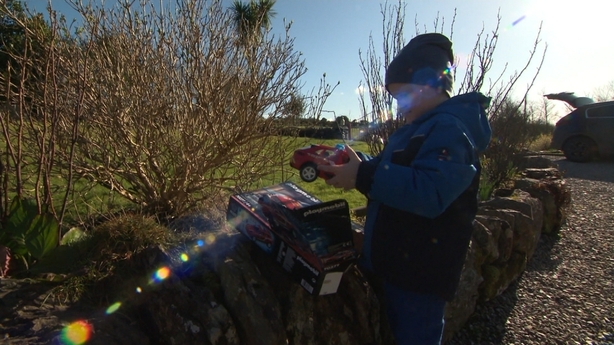 Ms Walden said Leonid's doctors were unequivocal in their warnings to his parents.
"He was due to have one last bout of chemotherapy before he gets his bone marrow transplant on 10 March," she said.
"The doctor gave Yana all Leonid's documents [on Thursday last] and said 'run, just run. There is no way he is going to get any more treatment. We have to send him home. Because of war, we don't know what's going to happen'."
Yana and Serhiy collected her mother, Svitlana Surzhyk, and drove west until they reached the Ukrainian/Polish border.
"It took them 30 hours to drive there," said Ms Walden. "And when they got there, there was 20km of a queue of cars. But luckily the police were very kind to them once they found out the condition Leonid was in.
"They put on the sirens and they took them 20 kilometres to skip the queue."
The family stayed overnight at the Polish border, before driving to Warsaw.
Ms Walden contacted West Cork Independent TD Michael Collins, who brought Leonid's case to the attention of the Department of Foreign Affairs.
The family flew to Zurich in Switzerland and yesterday afternoon touched down at Dublin Airport. They drove to west Cork last night, exhausted but safe.
Today, Mr and Mrs Shapoval thanked Mr Collins for his efforts on the family's behalf.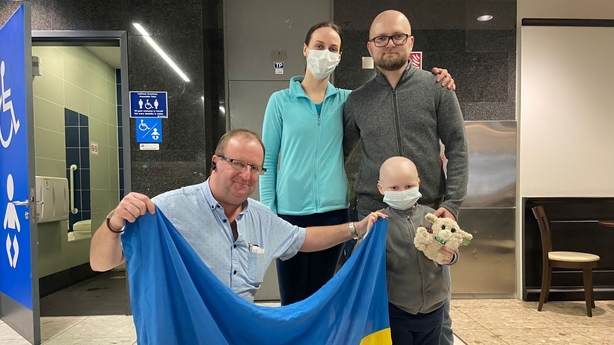 They say they have since learned that the hospital where Leonid received his chemotherapy in Kyiv has been bombed by Russian forces.
This afternoon, Leonid underwent a full medical assessment in Schull to prepare the way for him to be able to resume his treatment here in Ireland.
The family are hoping he will receive his last session of chemotherapy here, before he undergoes a bone marrow transplant.
"He needs to be in hospital as soon as possible - that is what he needs," Ms Walden insisted.
"I hope he gets cured and lives a very happy, long life - that is what I want for him, because he is such a wonderful little boy."
Leonid's mother also spoke of her hopes for her little boy and her hopes for her family.
"Leonid is very kind and very active. He's a very lucky boy," Ms Shapoval told RTÉ News. "I hope he will be happy and we will be free."
A GoFundMe page has been set up to help Leonid's family with his medical expenses. Organised by his cousin, Alexander Walden, the page is called "Help Leonid with his leukemia treatment".