Twenty-three white-tailed eagle chicks have arrived by plane at Kerry Airport today as part of a long-term wildlife programme to reintroduce the birds of prey to Ireland.
The chicks will spend up to eight weeks in purpose-built flight cages being cared for and monitored by National Parks and Wildlife Service (NPWS) staff before being released at four Munster sites in August.
The predators were once a common sight in Ireland but were driven to extinction in the late 19th and early 20th centuries by humans.
The NPWS reintroduction programme began in 2007 with the help of the Norwegian Institute for Nature Research, local landowners and farmers.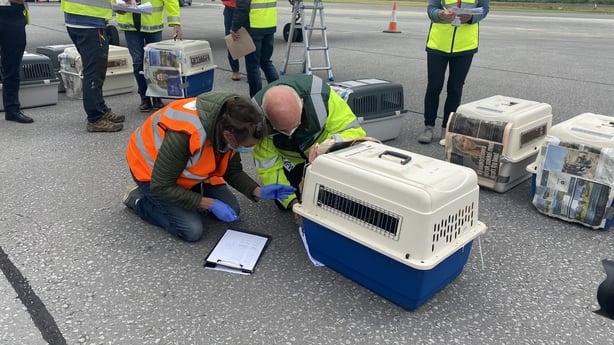 Since then 100 birds have been released into the wild at Killarney National Park with ten more birds released at sites on Lough Derg and on the Lower Shannon Estuary in 2020.
Sea eagles breed at around 5-years-old and the first successful breeding in the wild in over 100 years took place in County Clare in 2013.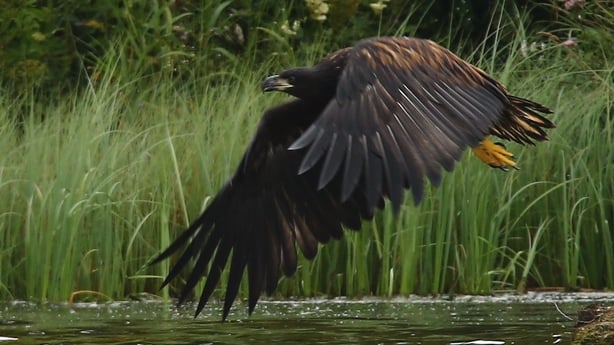 Currently, ten breeding pairs can be found in Kerry (seven), Galway (one), Tipperary (one) and Cork (one), with reported sightings of the predator in Northern Ireland and Britain.
Thirty chicks have fledged from nests in Kerry, Cork, Clare and Galway since 2012, with five chicks due to fledge from nests in Kerry and Tipperary next month.
But the programme has faced challenges with birds and their chicks vulnerable to avian influenza, poisoning and bad weather damaging nest sites.
The NPWS took a decision this year to boost the existing population with a new injection of chicks as part of Phase Two of the reintroduction programme.
The 23 chicks were collected under license from nests throughout the Trondheim area of west-central Norway by the Norwegian Institute for Nature Research.
The birds will be held for up to eight weeks at purpose-built flight cages at four unnamed sites across Munster, including Killarney National Park, along the River Shannon, the lower Shannon estuary, and a site in Waterford, where they will be cared for and monitored by NPWS staff before being released into the wild in early to mid-August.
Extinct in the country since the early 1900s, the reintroduction programme is a long term initiative to reestablish the native bird of prey in Ireland by the National Parks and Wildlife Service of the Department of Housing, Local Government and Heritage.