The winner of the 2020 Texaco Children's Art Competition will have their painting displayed in galleries across Kerry under an initiative led by the Arts Council in Kerry County Council.
Casey Etherton, 17, from Caherdaniel, won the competition last November and should have been travelling to Tokyo to exhibit his piece.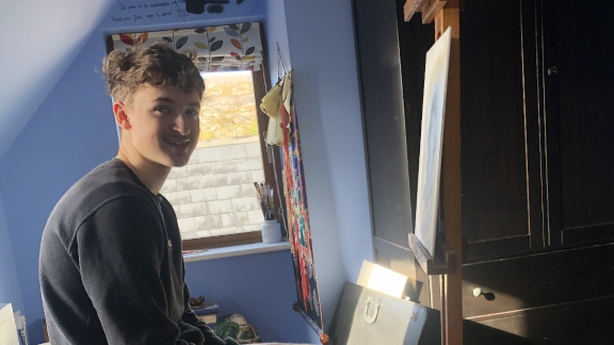 Instead, people in Co Kerry will have the opportunity to see the young artist's oil painting, 'Kevin in the Pink', being displayed in the windows of some art galleries.
The painting is of Casey's neighbour Kevin; wrinkles and all.
"Kevin, the subject, lives just down the road. I've known him all my life and I've just recently taken an interest in his face and his wrinkles and everything. I saw him talking underneath this light and I saw how it communicated with his face and it was really interesting and I really wanted to paint it," he said.
Although Casey is disappointed he will not get the opportunity to travel to Tokyo, he said it's "an honour" to have his work displayed across Kerry.
Galleries are closed under current Level 5 restrictions, but galleries in Co Kerry will keep their lights on in their windows to show support for Casey, according to artist John Hurley.
"Oh man, what a piece of work. I'm dying to see it in the flesh," he said.
"I'm more than happy to exhibit that piece of work and other pieces by that artist any time."
Kerry County Council's Arts Officer and Creative Ireland Kerry Co-Ordinator Kate Kennelly said that now, more than ever, we need to see communities pulling together to prove there are brighter days ahead.
"We're hoping that people will stop and enjoy the painting if they're passing. Artists always benefit from seeing each other's work and if it can bring even the slightest bit of joy or encouragement during these dark times then we'll be delighted with that," she said.
Texaco's Marketing Manager Bronagh Carron said the drive in the community to support Casey was "wonderful".
"We were so delighted that the local community had come together in an effort to bring joy and hope into people's lives. It was wonderful, it was certainly a request we couldn't put to one side," she said.
Casey said he hopes to get to Tokyo on another occasion.
"I don't think I will be going anytime soon unfortunately but that's fine. I'm very happy just about the win itself and having this opportunity to display my work around Kerry; it's really an honour."