A 77-year-old man who was rescued from the bottom of a 15-metre cliff in west Cork has thanked the Irish Coast Guard team and the rescue services who went to his assistance.
Rescuers say Glynne Jones, who got into difficulty after he tried to save his dog, was within minutes of being swept out to sea by the rising tide and crashing waves.
Just over 24 hours ago, Glynne Jones was waist-deep in sea water, at the bottom of a gully near Garretstown Beach, a few kilometres from the Old Head of Kinsale. He was in danger of being overwhelmed by crashing waves from the in-rushing tide, and his options for escape were dwindling fast.
This afternoon, Glynne was happily back on Garretstown Beach - rescued, recovered and eternally grateful.
Glynne and his wife Eve had returned to pay tribute to those who rescued him and saved his life.
Glynne and Eve had been out for a walk with their beloved 13-year old terrier, Bandit, along the cliff-top path at Garretstown which boasts spectacular views of the Old Head and the west Cork coastline.
The walk brings you so close to the sea below, you can almost taste the salt water.
Glynne and Eve have walked this path regularly since they moved from Wales and settled in the nearby village of Ballinadee 20 years ago.
Yesterday, however, Bandit ran ahead and slipped from the edge of a gully into the sea, 15 metres below.
The sea was angry. Earlier high tides had flooded Cork City, 40 kilometres away. Now, the tide was again filling for the second time, and waves were battering the rugged coastline.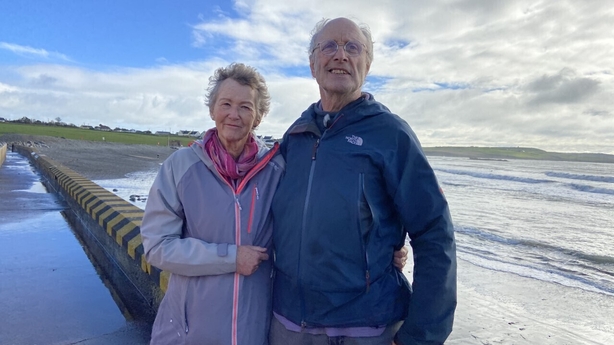 From the clifftop, Eve and Glynne could see Bandit struggling in the sea in the gully beneath them. What's worse, he couldn't breach a thick layer of foam that was sitting on the water.
Out of affection for his beloved pet, Glynne descended the face of the gully to the bottom of the inlet.
Very quickly, though, he was in difficulty himself.
Eve recognised the danger, but had no signal where she was. She ran across a field to the road and dialled the emergency services.
Eve's call was put through to the Marine Rescue Centre in Valentia.
There were three watch officers on duty in Valentia when Eve Jones' call came through at 4.51pm yesterday.
Two of them began making contact with all available assets in the area: the pagers of members of the Old Head Seven Heads Coast Guard Unit were activated; the Coast Guard helicopter in Shannon, Rescue 115, was tasked, as was the crew of Courtmacsherry Lifeboat.
Local gardaí, paramedics and an ambulance from the National Ambulance Service and Emergency Medicine Consultant Jason van der Velde - who doubles as a rapid response doctor - were all tasked within the next four minutes.
Local knowledge was key, though.
One of the watch officers in Valentia rang a local man, Mike Murray, directly. Mike is a farmer in Garretstown. He's also a Coast Guard volunteer and Officer in Charge of the Old Head Seven Heads Coast Guard Unit. Mike dropped everything on the farmyard and headed towards the cliffs. Mike reckons he was there in two minutes.
He didn't like what he saw when he got there.
"He (Glynne) was in huge danger," Mike told RTÉ News. "There were huge waves of foam everywhere, with strong winds being blown up."
Mike and his colleagues lowered a rope to Glynne in the gully. He tied it around his chest.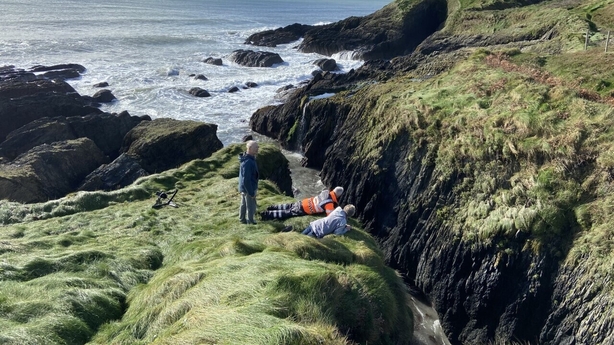 Eve Jones stood watching on the clifftop, acutely aware of the risk too.
"He was in a huge amount of danger," Eve said. "They kept telling me 'he's talking, he's safe, he will be alright - but I could see how worried they were, and I really thought they were going to have to bring the helicopter in to pick him up."
Glynne was worried too.
"If they had arrived 10 minutes later, I wouldn't be here now," he told RTÉ News today.
As the waves threatened to overpower Glynne, those on the clifftop hauled him from the water to safety.
Shocked and shaken, he was thankfully uninjured.
Reflecting today on the rescue he had witnessed, Dr Jason van der Velde said: "No doubt about it, absolutely no doubt about it - Glynne was dead had it not been for a very well co-ordinated local voluntary and State professional response yesterday. I mean, the next wave could have taken him."
Glynne and Eve Jones met some of those who rescued him to express their thanks to them today.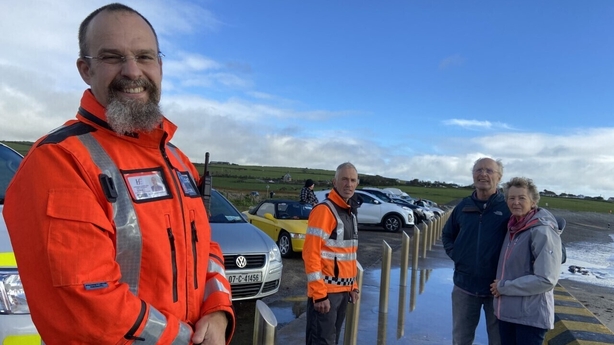 "I am immensely grateful," Glynne told them.
Eve said they owe the rescue services so much: "It could have turned out so much worse.and they are just so amazing. I hadn't realised that they (members of the Old Head Seven Heads Coast Guard Unit and many of the other rescuers involved) are all volunteers, and they just come when they're needed."
Glynne didn't need to go to hospital. He was treated at home last night by Jason van der Velde.
Sadly, Bandit was washed out to sea. His body was found on the shoreline this afternoon and returned to Eve and Glynne.
The Irish Coast Guard has congratulated everyone involved in the rescue.
Its advice is, if danger arises in similar situations, dial 112 and ask for the Coast Guard and wait for help to arrive.