Honey production is undergoing a major revival across the country as communities do their bit to help save the threatened honey bee.
Among the very grateful beekeepers is the country's youngest - Rian Somers - who is busily harvesting this year's crop at home in Rathcormac, Co Cork.
Rian loves hurling, but bees have bewitched the five-year-old. He comes from a long line of beekeepers on both sides of his family.
At his home in Rathcormac, he tends to two hives, a colony of over 60,000 honey bees, and a queen bee by the name of Sofia.
Born with spina bifida and a wheelchair user, he loves the buzz of tending to his own bees which he discovered during the past few months under Covid-19 restrictions while helping his dad out with his hives.
He especially likes using the smoker which he says "keeps the bees quiet".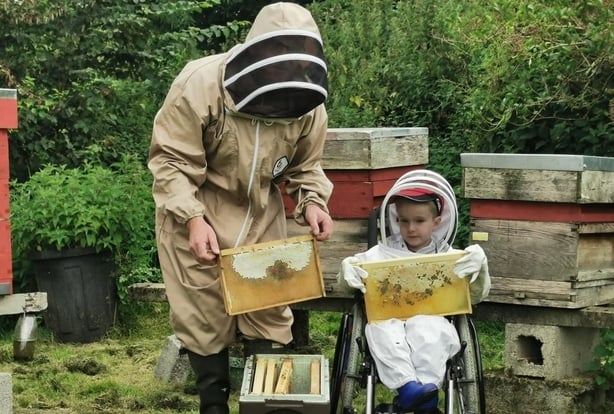 The smoker is filled with discarded shavings from ash used to make hurleys locally, and when lit the smoke is puffed into the hive.
"The bees think there is a fire and they eat all the honey, and they have a big full tummy, and they go to sleep and don't sting so much," he said.
His dad Fergal said it all started at the beginning of the Covid-19 outbreak here when the family had plenty of time, and he was working from home.
Rian and his dad preparing 'the smoker' (filled with ash wood shavings from a local hurley maker). At 5, Rian is the youngest registered beekeeper in the country #Honey #Bees #biodiversity More @rtenews pic.twitter.com/GkcLASFnvD

— JennïeØSullivân (@OSullivanJennie) August 10, 2020
"The weather was gorgeous and it lent itself to bringing Rian down and we got him the suit and he would spent an hour and a half down with me here with the bees, never gave out or got stung yet, touch wood, so long may it last!"
He is registered with the Irish Federation of Beekeepers and with the East Cork Beekeepers Club, but is too young yet to be officially registered as a honey producer.
Rian recently got a letter from the then-Minister for Agriculture Michael Creed congratulating him on his interest.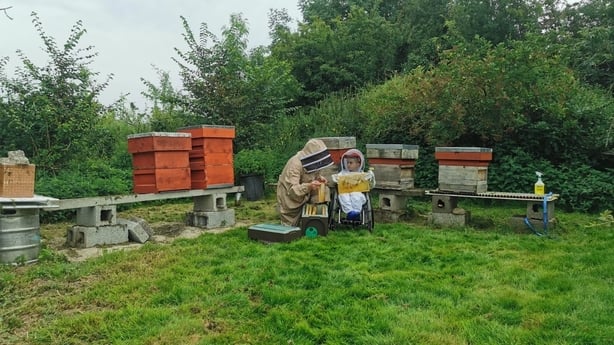 "Your enthusiasm for bees is remarkable and inspiring. To see a young person involved in beekeeping fills me with hope for the future of the craft in Ireland," he said.
"Bees are very important for pollination and without them we would not have many of the wonderful foods that we like to eat and the beautiful countryside would be without many of the flowers and plants that are so important to us.
"By keeping bees you are helping to preserve one group of pollinators and doing your bit to protect our beautiful landscape. Bees truly are remarkable and I am very glad you have chosen to become a beekeeper to experience their brilliance," Mr Creed said.
As Rian is too young to be registered officially as a honey producer - its only lucky friends and family who get to savour it for now... but the flavour, they say, from the honey jars designed by his older brother Callum, is unbee-lievable.