An eight-year old boy from Ballincollig in Cork has been congratulated by the President, the Taoiseach and by the Lord Mayor of Cork after he raised more than €30,000 for charity.
Oliver Lynch, who has cerebral palsy, walked 100 metres per day for the past 50 days, and achieved his five-kilometre goal this morning.
When Oliver emerged from his home, before embarking on his walk today, he was met with a media scrum of photocalls and interviews and a round of presentations from the emergency services
They lined the route of his final 100m walk with their blue lights as Oliver set out to achieve his lockdown goal of walking 5km.
In rain, wind and sunshine, Oliver has continued his walk, prompting President Michael D Higgins to write a personal letter to him, saluting his courage.
Taoiseach Micheál Martin sent a video message and Lord Mayor of Cork, Councillor Joe Kavanagh, attended the walk this morning.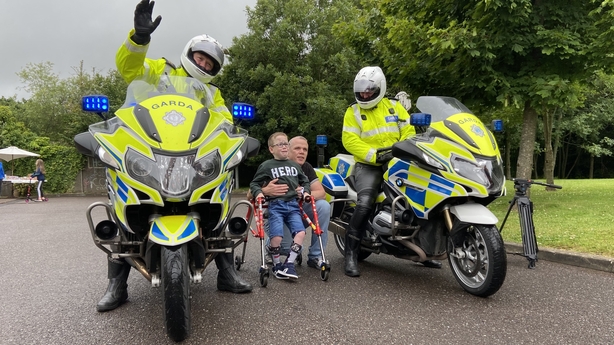 Oliver was cheered by neighbours and family friends as he crossed the finish line.
"We're so proud and everybody's so proud," said Oliver's Mum, Alison. "The messages of support from our neighbours around here, from our family, friends, from Gaelscoil Uí Ríordáin have been amazing - we feel very honoured."
Alison also revealed that Oliver was easy to motivate and please during his 50-day walk: "A packet of buttons and he'll be your man!"
Dad Kevin revealed that Oliver is being supported by a number of charities, including Enable Ireland, Cork University Hospital Charity and Dogs of the Disabled.
"Oliver wanted to give something back to people," Kevin said. ""He has loads of people helping him and he just wanted to give a little something back."
Mayor Kavanagh described it as an emotional day, as Oliver crossed the finishing line.
"I shed a small tear myself - I'm not ashamed to say it," he said.
"It's quite an emotional event. I am so proud of Kevin and Alison, Oliver's sister Caoimhe and his brother Reuben, but most of all Oliver - he's an absolute superstar."
An online fundraising campaign set a target of €10,000. Oliver's endeavours began to attract media attention and the fundraising target was soon surpassed.
"He has just blown through it," said Kevin. "Every day has just been fantastic; it really has."
When asked what his next goal is going to be, Oliver confidently replied: "Taking over the world."