The owner of the family-run service station in Cork city where Saturday night's €6.9m Lotto jackpot winning ticket was sold has said he was "absolutely bursting to share the news".
However, Noel Murphy said he had to keep it to himself until it was officially announced earlier today.
The winning ticket holder has already made contact with the National Lottery, but the name and location of the store where the ticket was sold was only officially confirmed this morning.
Mr Murphy, owner of the Circle K service station on Vicars Road in Togher, said he had some suspicions that his store may have been the lucky selling agent for the life-changing €6.9m prize following local rumours.
However, he said he did not allow himself to even dream about the win until he received official notification from National Lottery headquarters.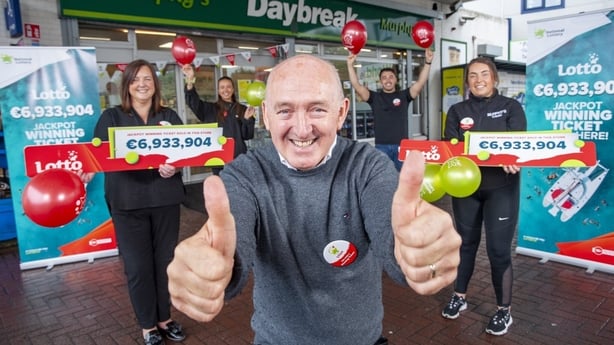 He said: "Anybody who knows the area surrounding Togher will know what a fantastic community we have here.
"Especially over the last number of months, we have been reminded of that great community spirit that we have and knowing that one of these people has won almost €7 million is truly heart-warming.
"I have absolutely no idea who the winner is, whether it is a syndicate or a lucky single winner."
"Whoever it is, we wish them all the best of luck with their new found fortune and I hope they enjoy it," he added.
Since the Lotto game began in 1985, there have been 175 jackpot winners from Cork with jackpot prizes totalling over €266m.