Staff at the country's six national parks and 80 nature reserves say a feast for the senses awaits the public once travel restrictions are lifted and people are free to visit again.
This week's National Biodiversity Week events had to be cancelled, but today is still being marked as UN Day of Biology Diversity.
At Killarney National Park, which attracts an estimated one million people per year, 35 staff have been working throughout the lockdown.
The park has remained open for the past two months, but visitor numbers are well down, due to travel restrictions.
---
We need your consent to load this rte-player contentWe use rte-player to manage extra content that can set cookies on your device and collect data about your activity. Please review their details and accept them to load the content.Manage Preferences
Drone footage of Killarney National Park - Valerie O'Sullivan
---
One of those who continues to enjoy a walk in the park is 66-year-old Peter O'Toole, who recently retired from the National Parks and Wildlife Service, and who lives nearby in Muckross in Killarney.
For 40 years he had one of those jobs which, elsewhere, people hold lotteries to fill, and hopeful candidates apply from all corners of the globe.
Mr O'Toole was a conservation ranger, and the vast 10,000-plus hectares of Killarney National Park was his domain.
"It's really a unique place," says Mr O'Toole. "It's a tapestry of many habitat types. You have acid oak woodlands that have been growing on the same site for several thousand years.
"You have unique yew woodlands in the park - there are only three of that type in western Europe. You have alluvial wet woodland and alder woodland, which is now a priority habitat.
"When you bring all those habitat types together, and the landscape together, you are left with a tremendous scenic area within the 10,000 hectares, which brings tourists from all over the world and has done so since the late 18th century."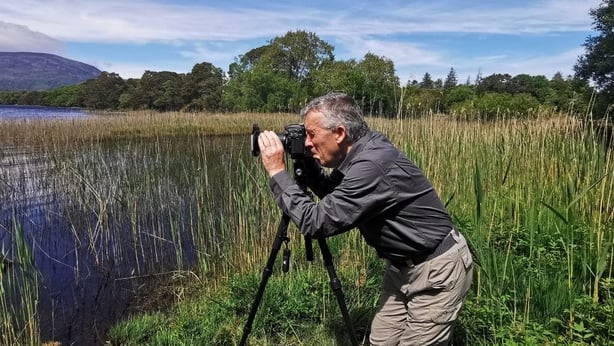 Mr O'Toole is also an accomplished landscape photographer. An exhibition of some of his photographs shot in Killarney National Park was taking place at the nearby Killarney House, until the lockdown came and the house was closed to the public.
In the exhibition, rutting red deer stags stand alongside cascading waterfalls and spectacular sunsets, all against a backdrop of the towering McGillycuddy Reeks.
But back in Killarney National Park, the Lakes of Killarney know no lockdown, because nature does not do lockdowns. In fact, nature has been taking full advantage.
Mr O'Toole admits to having enjoyed the lockdown.
"To a certain degree, it was quite eerie. At the same time, for me it was heaven because the tranquillity was amazing," Peter says. "I walked on pathways and through woodlands and all you could hear was the breeze, whispering through the trees, and the birds singing.
"It was an amazing time really, and I don't think I have experienced anything like it in my lifetime - there was such a sense of peace about the place."
Among the staff at Killarney National Park who have worked through the lockdown is gardener Gerry Murphy.
He is the park's horticultural supervisor. He's one of 35 permanent employees whose job is to ensure that the park is looking its best when movement restrictions are lifted and large numbers of people - not just those within a five kilometre radius - are allowed to return to visit.
Mr Murphy, for one, cannot wait for that to happen and, from his base at Muckross House and Gardens, he explained why.
"It was donated to the State by the Vincent family, and one of the main aims was that it would be used as much as possible for the people," he says.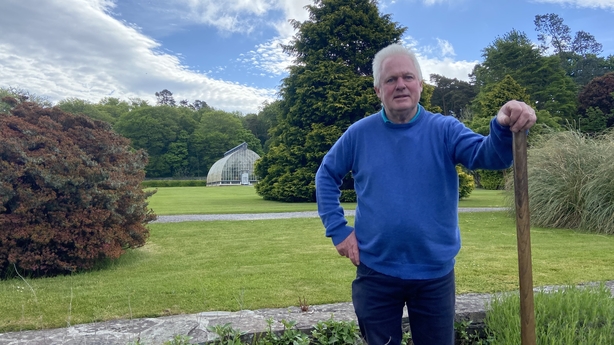 "The Vincents were always very interested in people and wanted to continue that, that people would come to Muckross, as many people as possible, to see such a wonderful place.
"This year I have never heard the dawn chorus go on for so long. It seemed to last all day, probably because of the quietness, that we don't have as many visitors because of the restrictions."
Mr Murphy has no fears about Killarney National Park's ability to be able to safely cater for large numbers of people when restrictions on travel are lifted. And, he says, a feast for the senses awaits those who will make the trip.
Back on the shores of the Lakes of Killarney, Peter O'Toole is looking forward to Killarney National Park once again being able to show itself off to the public.
"Every dawn is different. Every sunset is different," Mr O'Toole says. "You never tire of it. You look forward to it. It's like an adventure every time you go out."
Visitor numbers are expected to significantly increase from 20 July, when people will once again be allowed travel outside their home regions.
We need your consent to load this rte-player contentWe use rte-player to manage extra content that can set cookies on your device and collect data about your activity. Please review their details and accept them to load the content.Manage Preferences