Thousands of imported faces masks which did not meet the expectations for use by frontline hospital staff have been upgraded thanks to the ingenuity of staff and students at Kinsale Community School in Co Cork.
The 10,000 masks were part of a consignment ordered from China for use at Cork University Hospital but were found to cause nose and ear irritation.
Since the end of March, a small team has been making and supplying some 6,000 visors designed by two students at the school using 27 3D printers. 
These have been sent to medical staff in hospitals and care homes across the country, among them CUH.
Recently they were approached to see if a device designed by the same students, Oisín Coyle and Shane Collins, could be used to improve face masks that had arrived in a consignment from China.
We need your consent to load this rte-player contentWe use rte-player to manage extra content that can set cookies on your device and collect data about your activity. Please review their details and accept them to load the content.Manage Preferences
The 'Earsaver' sits on the head as opposed to behind the ears.
But there was still a problem with venting at the bridge of the nose and this is when Principal Fergal McCarthy said the school caretaker Brendan Barry had a eureka moment.
"He suggested replacing the wire at the nose with a stainless steel strap. Using stainless steel cable ties we cut them into 80mm lengths, removed the wire and fitted the strap," he said.
"Infection control in CUH is ecstatic as we have been fixing these masks at a rate of 1,000 per day."
Mr Barry says: "Its great to be doing something for the frontline workers, there's great satisfaction."
One of the two schoolboy designers, 16-year-old Transition Year student Shane Collins, says they have now amended all of the 10,000 masks.
"There is multiple other designs of masks that we are now working on 'Earsaver' prototypes to help with them."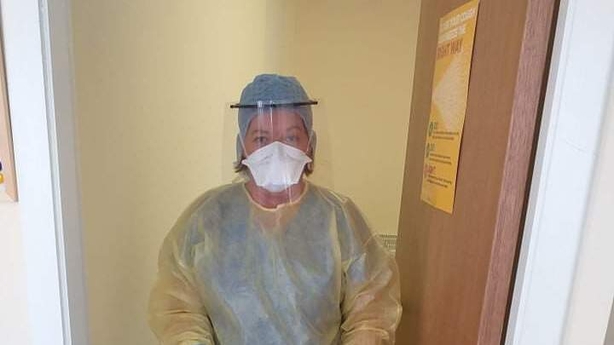 His design partner, 17-year-old Oisín Coyle, a fifth year student in the school, says the best bit is when they get photographs from frontline staff wearing their visors or amended masks.
"We don't get to see who gets to wear them so when pictures come in from hospitals or places like that with people wearing our visors or the face masks, it makes us feel great," he said.
The project has received support from the Lions Club, Eli Lilly and from a GoFundMe fundraiser.