Gardaí have established a national Covid-19 unit based at Garda Headquarters in Dublin to co-ordinate the force's response to the coronavirus outbreak here.
A fleet of more than 200 vehicles has been hired for community gardaí to maintain contact with people who are vulnerable, isolated or alone.
Among the community gardaí currently increasing their calls to people in the community is Brigid Hartnett.
Brigid has been a garda for more than 20 years and a community garda in Bantry, Cork for the past six years.
Her role, visiting people in some of the most isolated parts of west Cork, has never been more critical.
On a visit to Mary and Dominic Conlon at their home outside Bantry, Brigid explains how an upsurge in community spirit has been the silver lining of the gathering clouds over coronavirus.
Brigid said: "It has been so positive. That is one of the nice things to come out of this horrible situation, that people are showing such kindness towards each other, and helping each other more, and willing to go the extra mile for each other in those situations, especially where you have elderly people involved."
Mary and Dominic Conlon, retired to their home outside Bantry seven years ago.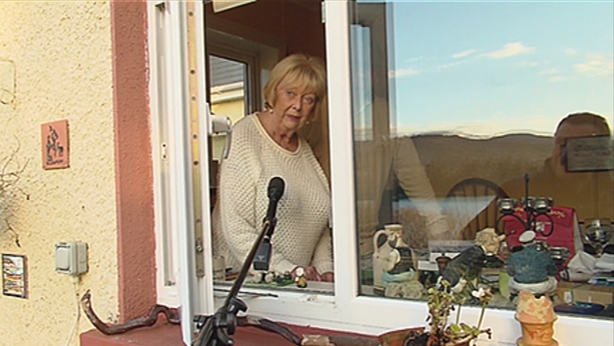 Without displaying any symptoms, they decided to self-isolate last Monday to protect their own health and that of their neighbours and other members of the community.
Mary said: "I am apprehensive, not actually so much about our health but about (other) people."
Mary's background is in nursing. Prior to her retirement, she worked as a clinical nurse manager.
Mary believes it is vital to keep spreading the message about social distancing and the need for self-isolation, where self-isolation is appropriate.
She said: "It is up to every one of us to be responsible."
Mary and Dominic both say they are delighted with their visits from Community Garda Brigid Hartnett, and they are optimistic everyone will take the necessary steps to ensure the Covid-19 crisis will pass.
Asked if we will get through this, Mary said: "We have to -- I'm not ready to die yet!"
Mary and Dominic are looking forward to celebrating their 50th wedding anniversary together in September.
She said: "We have to be optimistic."
Brigid Hartnett's job as a community garda is now almost totally focussed on touching base with people in her area.
In a sense, it's a re-affirmation of the relationship between a garda and the local community.
It may fulfill something as simple as social contact for people who are isolated or alone. But, where it's required, the garda will now be the link between these people and vital community and medical services in every corner of the country.