Over 1,000 former soldiers, sailors and Air Corps personnel marched in Cork this lunchtime to highlight concerns over pay and conditions in the Defence Forces.
Organisers of the second 'Respect & Loyalty Parade' said the defence forces is in crisis - with morale, pay and numbers at an all time low.
In the first 3 months of this year, 166 personnel left the Defence Forces, while a high profile recruitment campaign last year they said realised a net recruitment of just three.
Retired Lieutenant Colonel Dan Harvey told the gathering, which included the families of serving personnel, that the Defence Forces are broken - that its soldiers, sailors and Air Corps crews are overworked and underpaid, overstretched and undermanned and that this is putting the safety and security of the country at risk.
He said the Defence Forces needs to be shown respect by politicians and the 2012 re-organisation should be reversed.
"Capabilities need to be restored, manpower needs to be restored and pay needs to be restored," he said.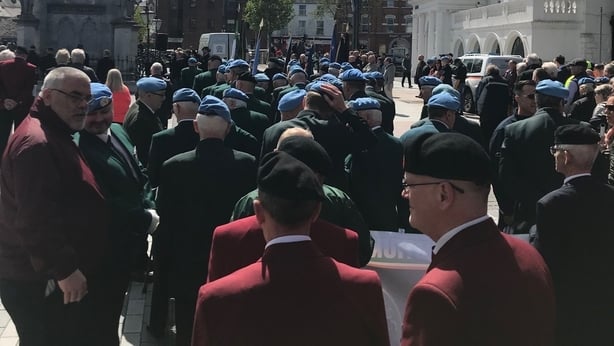 The families of serving personnel were also out in support, among them Shelley Cotter, whose husband and son are serving with the Irish Navy.
A member of the Wives and Partners Association, Ms Cotter said serving members cannot parade for themselves so they would do on their behalf to highlight how bad conditions have become.
For the first time overall numbers of personnel have dropped below 8,500, that is over 1,000 below the 9,500 minimum.
Before the parade got under way, wreaths were laid at the National Monument among them one from Cathal Brugha MacSwiney.
The grandson of both former Defence Minister Cathal Brugha and former Lord Mayor of Cork Terence MacSwiney also read the 1916 Proclamation to the parade.
A protest was held in Cork today over pay and conditions for Defence Force members. The demonstration heard claims that active service personnel are overworked, underpaid and overstretched pic.twitter.com/LS1fnimLNc

— RTÉ News (@rtenews) May 4, 2019