A small community in south Kerry has expressed its anger at An Post's decision to close the local post office.
Ballinskelligs Post Office is one of 159 post offices earmarked for closure.
Last night up to 200 people filled the parish hall to voice their concern and called on the Government to intervene in the planned closure.
The closure of the office at the western tip of the a Iveragh peninsula comes as part of An Post's rationalisation plan which will see 12 Kerry post offices close.
Waterville Post Office (13.5km) and Cahersiveen Post Office (15.8km) are the nearest alternatives for the people of Ballinskelligs. The post office is expected to close in January.
Last night's meeting which was chaired by Tom O'Callaghan of the Independent Postmasters Group and was also attended by local TDs and county councillors.
During the meeting people expressed their anger at the decision to close the post office.
Dessie Cronin of Coiste Forbartha na Sceilge claimed An Post was failing to recognise the challenges faced by people in rural Ireland.
"An Post says that no post office further than 15km from the next post office will be closed. Waterville is 13.5km away from Ballinskelligs. But does An Post not realise that there are people living in the western end of this parish that will be up to 23km from the nearest post office. That's almost a 50km round trip," he said.
Elected representatives from Fine Gael, Fianna Fáil, Sinn Féin, as well as Independents said they would do their utmost to put pressure on the Government to keep the post office open.
James Pháid lives alone and doesn't have a car. Ballinskelligs Post Office is earmarked for closure, this is how he feels about it. #Kerry pic.twitter.com/xpu70CcRNm

— Seán Mac an tSíthigh (@Buailtin) September 13, 2018
Sinn Féin TD Martin Ferris said his party would be putting a motion before the Dáil next Tuesday demanding intervention and the reversal of the decision to close the 159 rural post offices.
Mr O'Callaghan called on the Government to enact a Dáil motion which was passed in 2016 in support rural post offices.
He also outlined a planned march on the Dáil set for 18 September.
Anne Boland of Comhchoiste Ghaeltacht Uíbh Rathaigh said special provision must be made for the elderly in rural communities.
"There are elderly people living alone who see nobody from one end of the week to the other. They go to mass on Sunday and they collect their pension in the post office. They meet people there, they have a chat, they get the news and it's a huge part of their lives. They're taking that away from them."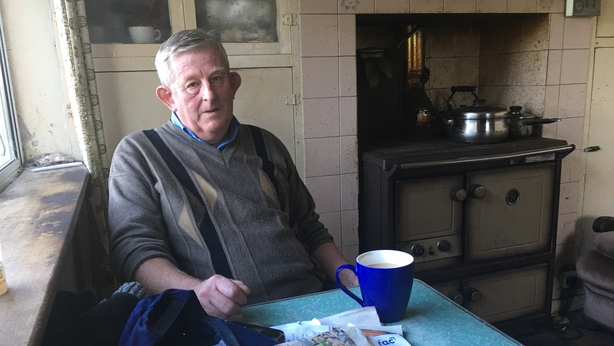 James Pháid Ó Súilleabháin, a small farmer who lives alone and does not have a car, said the closure of the post office was a major blow for him.
"I'm over 12 miles from Cahersiveen and another twelve from Waterville. I'll have to get a taxi now to go and pay by bills and to collect my Farm Assist Payment. That's €20 in and another €20 home. There won't be much left at the end of the week to feed me and pay for other things," he said.