Opponents of a multi-million euro incinerator at Ringaskiddy in Cork Harbour have vowed to continue their fight against the project after it was granted permission by An Bord Pleanála.
The board went against its inspector's recommendation that planning permission be refused.
The waste-to-energy incinerator is due to be built by waste company Indaver.
Under Strategic Infrastructure Development, the company applied to An Bord Pleanála for permission in December 2015 to build the €160 million, 240,000-tonnes-a-year waste-to-energy facility.
An oral hearing was held in April and May 2016 and a decision has been awaited since July 2016.
This was the third application by the company since 2001 to build an incinerator on the site.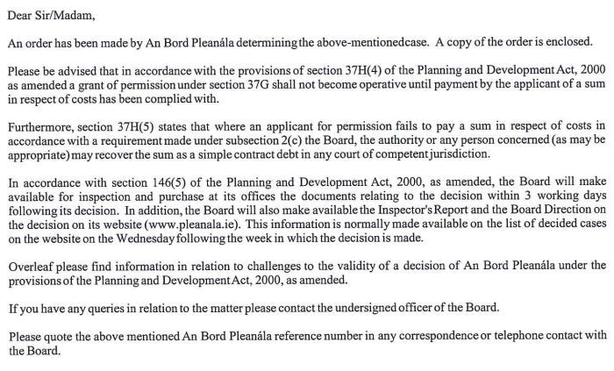 Tánaiste Simon Coveney has said he was disappointed and frustrated that the project is going ahead.
In a statement, the Cork South-Central TD said he opposed the application from the outset.
"At the time of the oral hearing I made a detailed submission in person outlining that it was inconceivable for a major incinerator to be developed in a harbour area where the Government has already invested millions in a marine college, clean-energy research centres and the clean-up of the old Irish Steel/Irish Ispat site on Haulbowline Island," he said.
"We are working hard to create something very special at the heart of Cork Harbour area which is of national significance.
"I can understand that people will be very angry and frustrated at this announcement today and I share this sense with them."
Tánaiste echoes concerns of Cork opposition Deputies in the #Dáil over An Bord Pleanala decision re Cork Harbour @rtenews pic.twitter.com/GH7T1dFG3k

— RTÉ Politics (@rtepolitics) May 31, 2018
Fianna Fáil leader and Cork South-Central TD Micheál Martin has said he was very unhappy about the planned development.
Speaking on RTÉ's News at One, he said that the application had been rejected three times and the inspector had recommended against it.
He said there had been significant development of the harbour and surrounding areas to transform them into recreational and educational facilities and the planned incinerator would not fit in aesthetically.
Mr Martin said the people of Ringskiddy have been very tolerant of industry and supportive of the socio-economic development of the country but this is a step too far.
Ringaskiddy tonight pic.twitter.com/9xth10L93O

— Richard Downes (@downesr) May 31, 2018
The chairperson of Cork Harbour Alliance for a Safe Environment has said she was extremely disappointed at the decision.
Speaking on RTÉ's Today with Sean O'Rourke, Mary O'Leary said this was not the end of the road and the next steps would be considered with their legal team.
She said the community now questions the credibility of An Bord Pleanála's decision making.
Indaver Managing Director John Ahern said he was pleased An Bord Pleanála had decided to grant permission for the project.
"However, we are conscious that this decision simply marks another step in a long process," he added.
"As we have said from the outset, we believe that our plans are fully in line with national, regional and local planning regulations which was acknowledged by Cork County Council and has been reinforced by An Bord Pleanála's decision to grant permission."
Business and employer organisation Ibec welcomed the decision.
The group said the plant, when operational, would help Ireland to comply with its obligations under the EU's Waste Framework Directive.
Ibec said that generating clean energy from waste materials that would otherwise go to landfill or be exported would also support the European Commission's goal of a more circular economy.