Cork City Councillors have voted by 22 to six in favour of a €6m regeneration plan for the Morrison's Island area of Cork city.
Development of a new streetscape and promanade, as well as controversial flood defences, gave rise to more than 1,400 submissions from the public.
Work on the 12-month project is due to begin before the end of the year.
The plans centre between Parliament Bridge and Parnell Bridge, with the loss of some 110 parking spaces.
The Trinity footbridge is to be replaced and remedial works are to be carried out to the existing quay walls as part of the construction of integrated flood defence work.
The plans will see parking along the tidal flood-prone quay reduced from 150 spaces to 40.
The City Council said that this is a standalone project, independent of the OPW's controversial flood plans for the city, but "it is a sensible step" to include flood defences in it.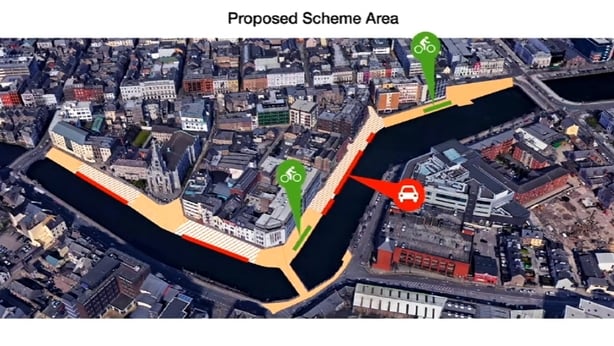 Almost 1,400 submissions on the City Council's plans, which include controversial flood defences, were received.
The council is seeking planning permission and councillors will vote on it tonight.
Save The Lee campaigners have called the project a "Trojan horse" being used to start the walls scheme in the city.
The council voted by 22 to six in favour of the plans.