US President Joe Biden has said he believes a deal is near to secure the release of some of the hostages being held by Hamas in Gaza, telling reporters "I believe so" when asked at the White House about a possible agreement.
Last week, Qatari mediators had been seeking a deal between Israel and Hamas to exchange 50 hostages in return for a three-day ceasefire that would help boost emergency aid shipments to Gaza civilians, citing an official briefed on the talks.
About 240 hostages were taken during Hamas's deadly cross-border rampage into Israel on 7 October, which prompted Israel to invade the tiny Palestinian territory to wipe out the Islamist militant group.
About 1,200 people, mostly civilians, were killed in the Hamas assault, according to Israeli tallies, the deadliest day in Israel's 75-year-old history.
Since then, Gaza's Hamas-run government said at least 13,300 Palestinians have been killed, including at least 5,500 children, by unrelenting Israeli bombardment.
Taoiseach Leo Varadkar spoke today with Prime Minister of Qatar Sheikh Mohammed bin Abdulrahman bin Jassim Al Thani, regarding the case of Emily Hand.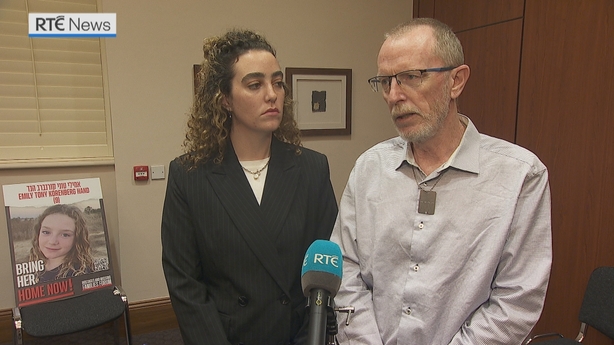 Mr Al Thani said they are aware of the case and said that children will be a priority in any negotiated release.
---
Read more: The key points on negotiations to release Gaza hostages
---
When the Taoiseach met Emily's family and the Israeli Ambassador to Ireland last week, he pledged that he would use all channels of communication to pursue her release.
Last week, he spoke to the International Committee of the Red Cross and Red Crescent, having previously raised her case with the Palestinian prime minister, the Egyptian foreign minister and Prince Rashid of Jordan
Despite ongoing fighting, Israel's ambassador to the United States, Michael Herzog, told ABC News yesterday that Israel was hopeful a significant number of hostages could be released by Hamas "in coming days."
It comes as a group of 28 prematurely born babies evacuated from Gaza's biggest hospital were taken into Egypt for urgent treatment.
Experienced mediator and co-director of Forward Thinking Oliver McTernan said he thought it would be "extremely difficult to secure the release of the hostages safely if the current level of hostilities continues".
Speaking to RTÉ's Six One, he said: "I think the double aim of Netanyahu's government to crush Hamas and release the hostages, I find totally incompatible and I just do not know how that can be achieved unless a ceasefire is brought in place and the hostages have the opportunity to be delivered safely."
He said he did not think the speculation around the hostages' release and the negotiations on this issue helped.
"I think this constant leak worries me because it is almost a distraction from what is happening on a day-to-day basis in Gaza. It gets the headlines, we look away from the realities, the horror of Gaza and the need to bring this present conflict to an end immediately," he said.
Mr McTernan said that "conflicts like this" cannot be resolved by military means and added they need "an inclusive political process".
Additional reporting: Mícheál Lehane