A group of 28 prematurely born babies evacuated from Gaza's biggest hospital were taken into Egypt for urgent treatment.
The newborns had been in north Gaza's Al-Shifa hospital, where several others died after their incubators were knocked out amid a collapse of medical services during Israel's military assault on Gaza City.
Israeli forces seized Al-Shifa last week to search for what they said was a Hamas tunnel network built underneath.
It comes as Gaza's Hamas-run health ministry said on Monday that 200 patients were evacuated from the Indonesian hospital in Jabaliya with the help of the Red Cross just hours after it was hit by a deadly Israeli strike.
Health ministry spokesman Ashraf al-Qudra told AFP 200 people were taken by bus to Nasser hospital in the southern town of Khan Yunis.
"The Israeli army is laying siege to the Indonesian hospital," he said.
"We fear the same thing will happen there as it did in Al-Shifa," he added, referring to the largest hospital in Gaza which Israeli troops have been searching since Wednesday.
The evacuation of the 140-bed hospital, which is close to the Jabaliya refugee camp, was carried out in coordination with the International Committee of the Red Cross (ICRC), he said, in a condition laid down by doctors after Israel struck an ambulance in northern Gaza, claiming it was being used by Hamas militants.
"There are still 400 patients in the hospital and we are working with the ICRC to evacuate," he said, indicating that "around 2,000 displaced persons" were in and around the hospital.
The Hamas-run government earlier reported that dozens of tanks and armoured vehicles were deployed around the outskirts of the hospital and were firing towards the facility.
An AFP reporter in Khan Yunis saw two buses arriving at Nasser hospital in company of the Red Cross.
During the morning, Qudra said an Israeli strike on a hospital had killed 12 people, among them patients and their companions, and wounded dozens of others.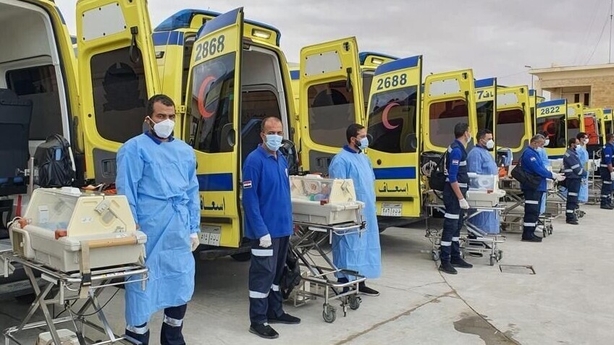 The Palestinian news agency WAFA said the facility in the northeast Gaza town of Beit Lahia had been hit by artillery rounds. Hospital staff denied there were any armed militants on the premises.
WHO chief Tedros Adhanom Ghebreyesus said he was "appalled" by the attack that he too said had killed 12 people, including patients, citing unspecified reports.
"Health workers and civilians should never have to be exposed to such horror, and especially while inside a hospital," he said on social media platform X.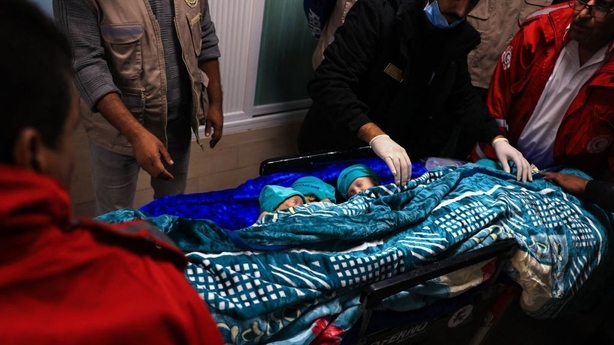 Indonesia condemned what it called Israel's attack on the hospital, set up in 2016, saying it clearly violated international law.
The Israeli Defence Forces (IDF), in response to a question about the hospital, said troops had fired back at fighters in the hospital while taking "numerous measures to minimise harm" to non-combatants.
"Overnight, terrorists opened fire from within the Indonesian Hospital in Gaza toward IDF troops operating outside the hospital," the IDF said. "In response, IDF troops directly targeted the specific source of enemy fire. No shells were fired toward the hospital."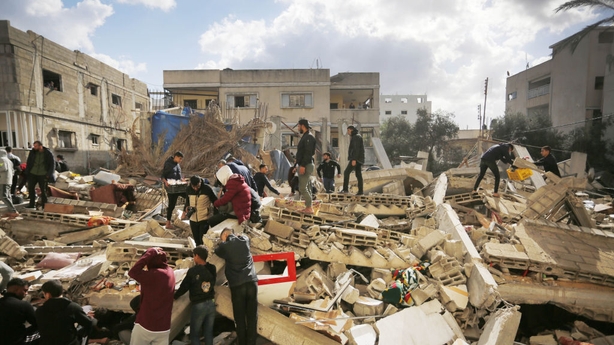 Like all other health facilities in the northern half of Gaza, the Indonesian Hospital has largely ceased operations but is still sheltering patients, staff and displaced residents.
Israel has ordered the total evacuation of the north, but thousands of civilians remain.
We need your consent to load this comcast-player contentWe use comcast-player to manage extra content that can set cookies on your device and collect data about your activity. Please review their details and accept them to load the content.Manage Preferences
(Video: Israel says tunnel found beneath Gaza hospital complex)
Food, fuel, medicines and drinking water have been running out across the enclave under Israel's six-week-old siege.
Medical charity Médecins Sans Frontières said its clinic in Gaza City also came under fire. "Our colleagues saw that a wall was torn down and part of the building was engulfed by fire, as heavy fighting took place all around it. An Israeli tank was seen in the street," it said on X.
In the south, where hundreds of thousands of Gazans who fled the north of the enclave are sheltering, at least 14 Palestinians were killed in two Israeli strikes on houses in Rafah, according to Gaza health authorities.
There was no immediate Israeli comment on either incident.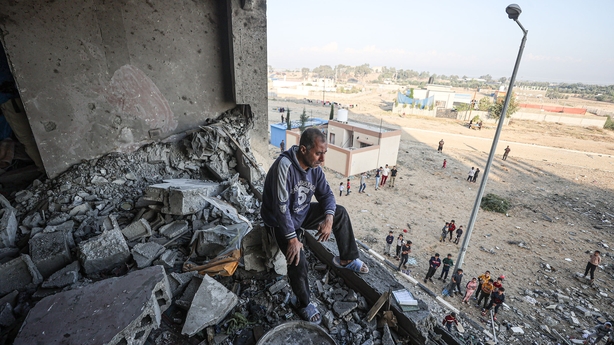 ---
Read more:
The key points on negotiations to release Gaza hostages
Robinson calls for 'coalition of peace' to solve Gaza conflict
Babies evacuated from Gaza hospital UN agency dubs 'death zone'
---
The United Nations says two thirds of Gaza's 2.3 million people have been made homeless.
Another 20,000 Gazans, including increasing numbers of unaccompanied children, journeyed from the north to south, mainly by donkey cart or bus or on foot yesterday, and some 900,000 displaced people are now in UN shelters, the UN Humanitarian Office (OCHA) said in an update.
Thousands more displaced people were sleeping against the walls of shelters in the south, out in the open, with an average of one shower for 700 people and one toilet for 150, OCHA said.
Israeli forces have seized wide areas of the north and northwest and east around Gaza City, the Israeli military says.
But Hamas and witnesses say militants are waging guerrilla-style warfare in the warrens of the congested north, including parts of Gaza City and the Jabalia and Beach refugee camps.
Red Cross president meets Hamas chief
The Red Cross said on Monday that its president had travelled to Qatar to meet with Hamas chief Ismail Haniyeh "to advance humanitarian issues related to the armed conflict in Israel and Gaza".
"President Mirjana Spoljaric met with (Ismail) Haniyeh, Chair of Hamas' Political Bureau, and separately with authorities of the state of Qatar," the International Committee of the Red Cross said in a statement.
The announcement came as negotiators worked to seal a deal for the release of some of the 240 hostages the Islamist militants took during their unprecedented 7 October attacks on Israel.
The ICRC stressed that Spoljaric's visit was part of efforts to hold "direct discussions with all sides to improve respect for international humanitarian law".
It pointed out that she has also met "multiple times in recent weeks with families of hostages held in Gaza, as well as senior Israeli and Palestinian leaders".
The Geneva-based organisation stressed that it was continuing "to appeal for the urgent protection of all victims in the conflict, and for the alleviation of the catastrophic humanitarian situation in the Gaza strip".
"ICRC staff in Gaza have been delivering life-saving assistance, and an ICRC surgical team continues to perform operations," it said, adding that it was "calling for sustained, safe humanitarian access so it can increase its work".
The organisation stressed that it had "persistently called for the immediate release of hostages".
"Agreements must be reached that allow the ICRC to safely carry out this work. The ICRC cannot force its way in to where hostages are held, nor do we know their location," it added.
The ICRC, which has already helped facilitate the release of four hostages on two separate occasions, emphasised that it "does not take part in negotiations leading to the release of hostages".
But it added that "as a neutral humanitarian intermediary, we remain ready to facilitate any future release that the parties to the conflict agree to".