The last 24 hours have been stressful for Wexford woman Sandra Allen.
Her 17-year-old son Jack, who has physical and learning disabilities, had been in Wexford General Hospital for the last six weeks for treatment.
The hospital was evacuated yesterday following a fire.
Sandra's sister, who had been in the hospital with their father after he was sent to the emergency department from a nursing home, had phoned to tell her of the fire.
"I was terrified, started to shake,' Sandra said.
"Normally I'd be a fairly cool customer on the outside, but you have no information at that stage … I was just trying to find out where he was."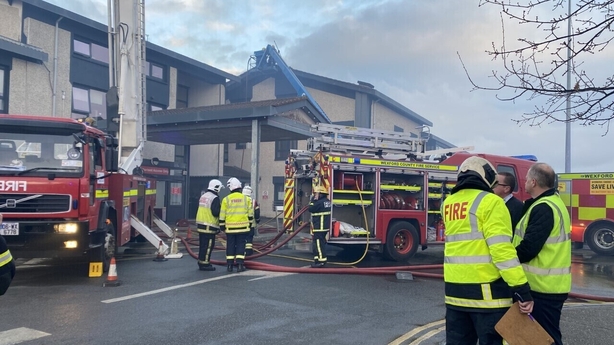 Sandra drove to the hospital from her home in Rosslare and found that her son had been moved to a space in the other side of the hospital.
"You could still smell smoke and it was stinging your eyes … it was busy, but it was calm," she said.
"My son is disabled and has an intellectual delay as well, and he gets by, but he wouldn't understand what was going on, you know?"
At half past one this morning she was told her son would be transferred to St Vincent's Hospital in Dublin.
"Obviously nobody wants their child in hospital as it is, and you think it's tough when you're in the local hospital, you're going in and out the whole time," Sandra said.
"But this is tough … I live in Rosslare, it's taken me a little over two hours to get here."
---
Read more:
Technical assessment due on damage at Wexford hospital
Call for Government to 'act with speed' after Wexford fire
---
Sandra said she was unsure how long Jack will be in St Vincent's but she hopes he can return to Wexford General soon.
She will stay in Dublin tonight, but is unsure what her medium-term plan will be. In Wexford, she usually visits him daily.
"I'd love him to go back, you know, because it takes him a good while to build up any kind of relationship with staff," she said.
"So being in a different hospital now, today we're going back to square one again. It could take him weeks to calm down in it.
"I was just got up here as soon as I could. I got a call about half an hour ago saying he was a bit upset, and he wanted to know how long was I going to be."
Reflecting back on the night's events, she said the main thing is that everyone got out safely, but she hopes the hospital resumes its normal work soon.