Maternity services at the fire-damaged Wexford General Hospital will reopen at 9am on Friday, with outpatient activity recommencing from next Monday morning, hospital manager Linda O'Leary has said.
Ms O'Leary said damage had been caused to the hospital, not only by the fire that broke out yesterday afternoon, but also by smoke. She said there was also extensive water damage.
Speaking on RTÉ's Six One, she said other services would reopen on a phased basis and this would be determined by how quickly they can confirm that essential services are back in place.
"For example medical gasses, oxygen, we need all those services to be restored and accurate and available to us before we can re-open entirely."
Ms O'Leary said that assessors and technical experts had been working on site all day, alongside engineers to work out what happened and the extent of the damage.
She said it was still not clear how the fire started.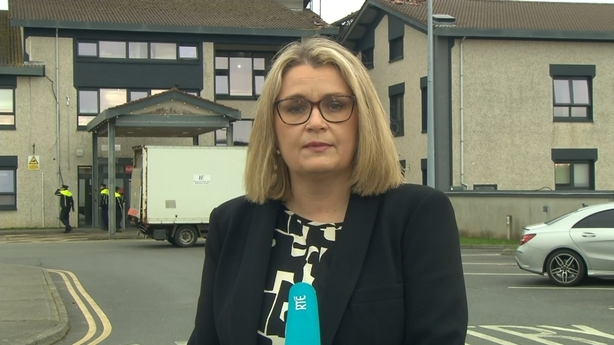 Twenty-seven patients are still being treated on site at the hospital, and she said that 90 patients were discharged yesterday and more than 90 were transferred to other hospitals around the country.
Ms O'Leary said she was hopeful repair works at the hospital would begin "almost immediately", but she said she had not yet been able to access all areas where damage occurred.
"Until we know the extent of the damage, I can't determine how quickly the repair works will take place, what the duration will be," she said.
She said she was still hopeful that a 96-bed extension to the hospital can be built, after the Government promised all support needed, but she said: "At the moment it remains to be determined."
Commenting on the evacuation of the hospital yesterday, she said that once the seriousness of the fire had been determined, staff had reacted in line with their training.
Ms O'Leary said that patients in the Intensive Care Unit and the Critical Care Unit had been their priority, and that enough staff had been on duty to help with this.
She said patients were anxious, but that staff had been professional in their approach: "We had a job to do, we had a task to do and everyone was aware of their role and responsibility," she said.
---
Read more
Call for Govt to 'act with speed' after Wexford hospital fire
---
Earlier, the hospital's Clinical lead Professor Obada Yousif said a technical report is expected tonight from those assessing the extent of damage, which will help to inform management on which services can be reinstated and if patients can return to the hospital.
Speaking on RTÉ's News at One, Prof Yousif said: "The priority of course is to ensure that the structure is safe and we have appropriate support services to cope with patients when they come back.
"We don't want to be bringing patients back to an unsafe situation so once we receive more information from our technical assessors, we'll be able to work on repatriating patients."
He said that currently a "significant number" of outpatient services are running in Ely Hospital in Wexford town, including oncology services.
The 29 patients who have not been evacuated from Wexford General Hospital may be able to stay in the property, according to the hospital's clinical director.
No injuries were caused by the fire, but a decision was made to evacuate the entire hospital.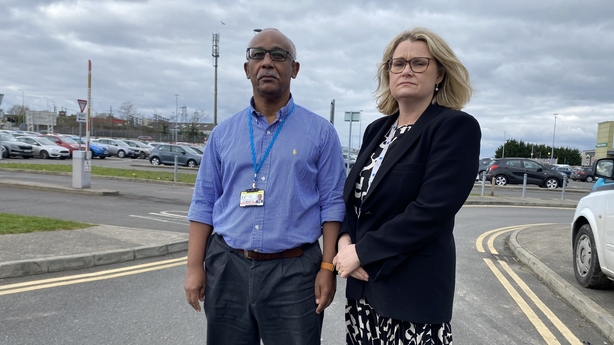 Of 207 patients who were in the hospital yesterday, about 60 have been discharged home and 29 remain on site. The rest have been moved to other hospitals following yesterday evening's fire.
Ambulances moved those patients last night and early this morning to hospitals in Waterford and Kilkenny as well as Cork, Dublin and Navan.
We need your consent to load this rte-player contentWe use rte-player to manage extra content that can set cookies on your device and collect data about your activity. Please review their details and accept them to load the content.Manage Preferences
This morning, a senior fire officer said the level of damage caused by yesterday's fire is "medium to small".
Speaking on RTÉ's Morning Ireland, Senior Assistant Chief Fire Officer Ray Murphy said the fire began in a plant room on the roof of a key area of the hospital, with a central stairway and lift tower, close to three adjoining ward blocks, affected.
The cause of the fire has not yet been established, but Mr Murphy said he would expect that it may have been a piece of equipment, such as a pump or motor, which may have malfunctioned.
He said the scale of the damage was "medium to small" and said he would not consider it "any large damage whatsoever", adding that it was confined to a small area within the hospital.
The hospital could be back up and running within days, he said, but to get over 200 patients back in will probably take weeks or months.
A helpline has been set up for relatives of family members that anyone with queries regarding a patient transfer can ring on 053-9153012.
Additional reporting: Saoirse McGarrigle, Conor Kane