The family of a boy attacked by a dog in Wexford have said that it was "a dream come true" to have the nine-year-old home sooner than expected.
Alejandro Miszan has been discharged from hospital after seven weeks of treatment for injuries sustained during a vicious attack by a pit bull.
Alejandro told RTÉ News that he is happy to be home from hospital.
He had been playing football with friends near his home in Enniscorthy when he was attacked on 27 November 2022.
He was airlifted to Children's Health Ireland at Crumlin with devastating injuries to his face and his family fearing he would not speak properly again.
He had undergone a number of surgeries since and was expected to be discharged in early February but was allowed return home yesterday.
His brother Raul said: "All the doctors and nurses came out and hugged him and said goodbye to him. When we came home all the neighbours were here and all my family were here to welcome him home in the best way."
Following the attack on Alejandro, then taoiseach Micheál Martin tasked Minister for Agriculture Charlie McConalogue to lead a review on dog control which has resulted in a working group being established to examine dog laws and enforcement.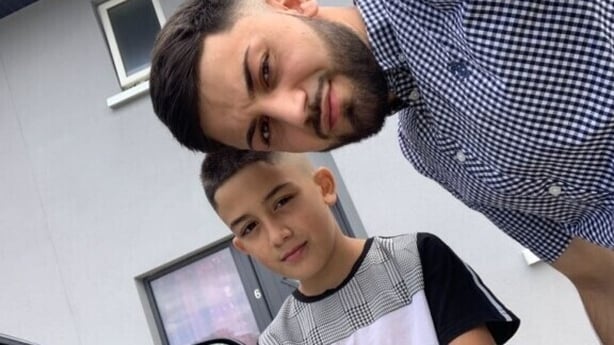 The group will look at issues including fines under the Control of Dogs Act, enforcement at local authority level, the provision of dog wardens, microchipping, promoting responsible dog ownership and licences.
Minister McConalogue said "our dogs are more than pets, they are our companions and loyal friends. However, the harrowing scenes we have witnessed recently show the threat dogs can pose if they are not properly controlled by their owners".
Minister for Rural and Community Affairs Heather Humphreys said "while the issue of dog control crosses a number of different government departments, as well as our local authorities, it is vital that we get to grips with this issue".
The Working Group will meet over the coming days.
Alejandro's family say he still has a long road of treatment ahead but they are thankful for all the support they have received.
They say that they are also grateful for the fundraising being done by his community after a neighbour started a fundraising page to raise money for his treatment and recovery.