The funeral mass of murdered primary school teacher Ashling Murphy has heard how a depraved act of violence which deprived a kind, talented, loved and admired young woman of her life has now united the country in grief and support.
Bishop of Meath Tom Deenihan said the days since the killing of the 23-year-old along the Grand Canal in Tullamore "have been a nightmare".
"A walk on a mild and sunny afternoon in January should be a happy event, promising the brighter and warmer days of spring and summer," he told mourners.
Bishop Deenihan said the murder has asked questions of ourselves and of society.
"It has questioned our attitudes and, particularly, our attitudes towards women and it has questioned our values and our morality," he said.
"We all know that no individual should die like Ashling and no family should suffer like Ashling's," he continued.
"Respect is an old-fashioned word but it is an important one. Respect was missing last Wednesday but it has re-emerged here all the stronger. Let us respect each other," he said.
However, Bishop Deenihan said today is about Ms Murphy and her family and friends.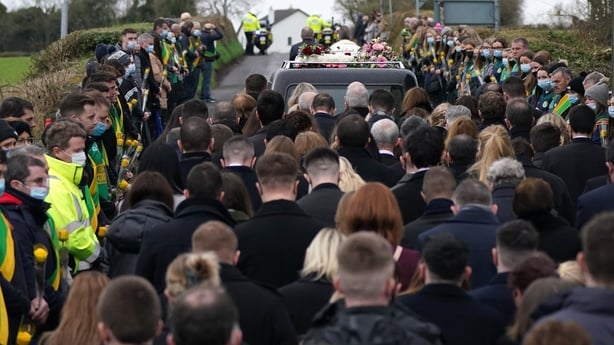 He prayed for Ms Murphy's pupils and the staff of Durrow National School where she taught first class "who have lost a wonderful colleague and teacher".
"If there is a chink of light to last week's darkness it must be the outpouring of support and sympathy that we have all seen," he said.
"It was manifested at the various vigils, it was manifested by those who assisted here, at the family home and in Durrow school over the past few days by those who quietly and discreetly provided refreshments, stewarding and whatever help that they could," he continued.
Bishop Deenihan said "community is needed to overcome evils such as this and community will be needed here in the weeks ahead".
Fr Michael Meade, the parish priest of Kilcormac Killoughey, was the chief celebrant at today's mass.
"Together we grieve, we pray, we hurt, this is the heavy price we pay for love," he told mourners.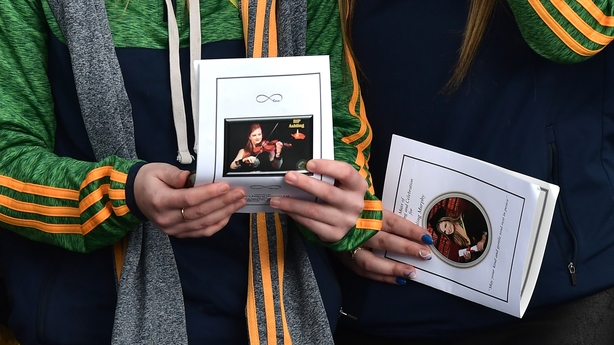 Addressing the circumstances in which Ashling Murphy died last week, Fr Meade told mourners: "Do not be afraid.
"These words are for all of us who have walked with, who have gathered in vigils, who gather today in wherever space we are - let us not be afraid to pray for one another, let us not be afraid to make change a reality in all our lives, change for what only is good.
"The issues raised in many ways and by many voices since this horrible act of violence invaded all our lives will, we pray, continue to evolve and bring the change we need so much, to simply give and show respect."
Speaking directly to the Murphy family, mother Kathleen and father Ray, brother Cathal, sister Amy and Ms Murphy's boyfriend, Ryan, Bishop Deenihan said they had been robbed of their most precious gift.
"A gift that gave only joy and love, fun and laughter to many beyond your family," he said.
The Prayers of the Faithful were read by Ms Murphy's six cousins. They prayed for her, who shared her passion, gifts and talents so generously.
Prayers were also said for her friends, colleagues and students in Ballyboy Comhaltas, Kilcormac, Killoughey Camogie club and Scoil Naomh Colmcille, Durrow. Prayers were said for all the staff at Tullamore hospital and for the gardaí.
The family also offered a prayer that the many vigils that took place in memory of Ms Murphy, mark the beginning of an end to violence against women.
Prayers were also offered for friends, neighbours and all those who paid tribute to Ms Murphy in recent days.