The mother of a man who was killed in a car crash in Co Meath two years ago says her family is living a nightmare since his tragic death and is urging people to be careful on the roads this Christmas.
21-year-old Martin Ginnelly, from Gibbstown, was a passenger in a car which crashed at Gibbstown Cross, Co Meath on 7 July 2018.
"It's a parent's worst nightmare, to get that call. To have a policeman standing at your door telling you that your son is dead. No mother or father should have to go through that," Caroline Ginnelly said.
Sean McFadden, 24 and from Mayo Road, Gibbstown, was the driver of the car. He pleaded guilty to dangerous driving causing death and is now serving a prison sentence.
For the Ginnelly family, this will be their third Christmas without Martin. Caroline Ginnelly says there is not a minute of the day she does not about her son, but Christmas is particularly hard.
"Christmas is a difficult time because Christmas is a time for family and all families get together but we'll never be a full family again because there's someone missing from the table," she said.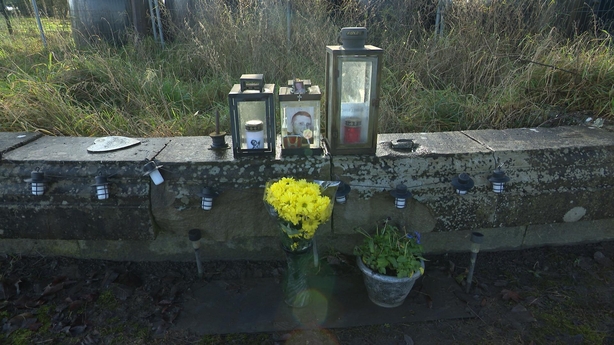 Martin Ginnelly had just finished a college course in DIT. He was out socialising on the night he was killed.
"Martin was so happy go lucky. He would light up a room when he went into it. He had just finished his exams in heavy duty mechanics and he was looking forward to the next part of his life," she said.
Ms Ginnelly said her son's death has had a huge impact on the whole family and life will never be the same again.
"He was such a kind, generous, loving caring young man that had everything to live for" she said.
With the lifting of travel restrictions over Christmas, gardaí are urging people to take care on the roads. Their Christmas road safety campaign is already underway with a focus on drink and drug driving.
140 people have been killed on Irish roads so far this year, which is up on the figure for this time last year, when 129 were killed.
Ms Ginnelly says she hopes talking about what happened to her son will save lives.
"If by speaking out it saves one life then it was worth doing.
"Slow down. Cars are not toys. Life is too precious for people to be speeding and I wouldn't like any other mother or father or siblings to do through what we're going through, it's just a living nightmare," she said.