Thousands of people turned out for a rally against violence in Drogheda this afternoon, where calls were made for more investment in support services in the town.
The rally was organised by the Mayor of Drogheda, Paul Bell.
He said today's rally was a "special moment" for the town, which in the last two years has endured acts of intimidation, threats, assaults, attempted murder and the "ultimate evil act of murder itself".
Addressing those gathered on West Street today, Mr Bell said the people of Drogheda have turned out to say to those involved they are about "the business of taking back the town" from where criminals have brought it too.
He said the residents of Drogheda are "terror fatigued".
A large crowd has assembled in Drogheda for the march against gang feuding & criminality @rtenews pic.twitter.com/cUhfyMjqmj

— Fran McNulty (@franmcnulty) January 25, 2020
Mr Bell said history has recorded that "no siege and no force can defeat the spirit of what makes Drogheda citizens so special and he added that the people "will not fail in ridding the communities of those who are convinced they are untouchable and free to do as they please".
The rally was organised following the murder, less than two weeks ago, of 17-year-old Keane Mulready-Woods, the third victim of this bitter feud.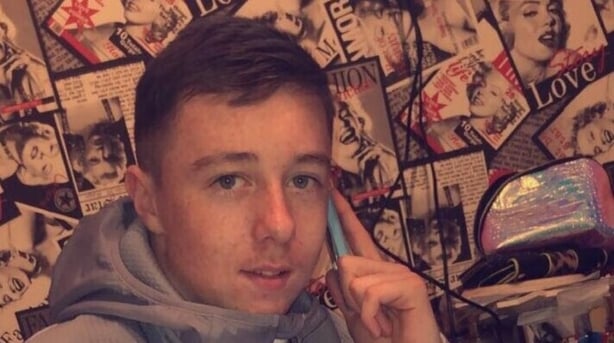 Mr Bell appealed to those involved in the "hideous act" to identify the location of Keane's remains, some of which have not yet been recovered, to allow his family lay their loved one to rest.
He said the issues faced in Drogheda are shared by many citizens living all over the country and urged legislators to support communities.
"Many children and young people in our communities have become somewhat socialised in an environment which permits violence, drug selling as a means to achieve status, power and wealth," he said.
"This reality for young people which we are duty bound to protect, must be duty bound to protect, must be challenged in the state investing in the communities impacted by a sense of despair, a lack of hope and ambition," he added.
He urged politicians to revisit legislation and give powers to the gardaí to prosecute and convict those involved in drug trafficking and distribution.
The public marches on West Street in Drogheda, with political leaders, against gang feuding & criminality in the town @rtenews pic.twitter.com/OhE1dOXi5g

— Fran McNulty (@franmcnulty) January 25, 2020
He also said legislators should review the work of the Criminal Assets Bureau with a view to resourcing gardaí to deal with those generating wealth from the selling of drugs on our streets.
Mr Bell also hit out at those who engage in so called recreational drug-taking, saying these people "contribute to the misery and pain felt in communities impacted by the serious criminality which accompanies the illicit drug trade".
Among those in attendance were Fine Gael leader Leo Varadkar, Fianna Fáil leader Micheál Martin, Sinn Féin leader Mary Lou McDonald, Labour leader Brendan Howlin and Aontú leader Peadar Tóibín.
Mr Martin and Mr Varadkar shook hands on the Bridge of Peace as they met and were joined the other political leaders.
Mr Varadkar said he attended the rally to show solidarity with people in the town and again have an assurance that gardaí will have all resources needed to tackle criminal gangs in Drogheda. 
Mr Martin said the march was about "the people saying stop" and said they do not want criminals to win out, while Ms McDonald said there is fear and anger in the community and something needs to be done to make them feel safe.
Louise Mahoney of the Red Door Project, an addiction service in Drogheda, said people of the town say "enough is enough, enough under-resourcing, enough short-term quick fixes, enough being treated like second class citizens".
The Garda Chief Superintendent of Louth, Christy Mangan, and the Superintendent of Drogheda, Andy Watters, were in attendance.
Former minister for justice Dermot Ahern was also at the rally.
An innocent taxi driver who was shot on the Bridge of Peace almost two weeks also attended the rally.
John Myles said he was there to show the people involved in the feud that they cannot be allowed continue.
Among the crowd was Joe Maughan, whose son Willie and girlfriend Anna Varslavane were murdered in April 2015.
They were last seen in Gormanston, Co Meath and their remains were never found.
Additional reporting Fran McNulty, Vincent Kearney and Samantha Libreri