Around 3,000 people from 131 countries have participated in Irish citizenship ceremonies at Dublin's Convention Centre.
Recipients travelled from all 32 counties to attend the three events, the first of which got under way at 11am this morning.
Some people who attended the ceremonies shared their stories about coming to Ireland and what it means to them to be Irish citizens.
Koranato Kiripati moved from New Zealand to Ireland when he was around nine years old.
Today he travelled from his family home in Roscommon to Dublin's Convention Centre to celebrate receiving his Irish citizenship.
He wore a necklace and traditional clothes from the country of his birth, and the 21-year-old told RTÉ News that he felt while "more Irish" he wanted to "honour" his roots.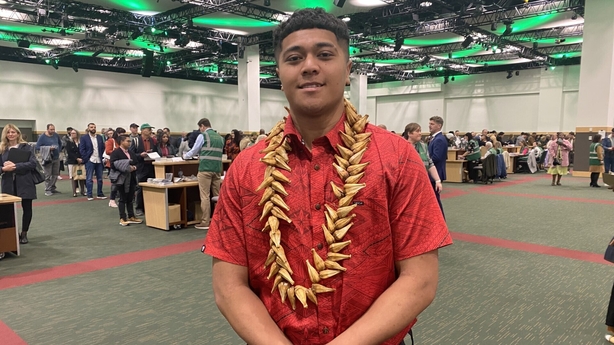 "I learned how to play rugby here and went to school here as well, so I pretty much feel more Irish than New Zealand," he said.
"I think it's good to have the two sides, you know especially when it comes to rugby, (they are) the two top rugby teams in the world right now, well for me anyway," he added.
But when I asked Mr Kiripati which country he would play for, there was no hesitation.
"I'd pick Ireland," he said.
In fact he already has, as he played for the Ireland Under 18s Squad.
His dad Kolo Kiripati, who was with him today, is the former head coach of Athlone Rugby Club Buccaneers RFC.
Some, like Edita Vinasoy who is originally from the Philippines, came here to work.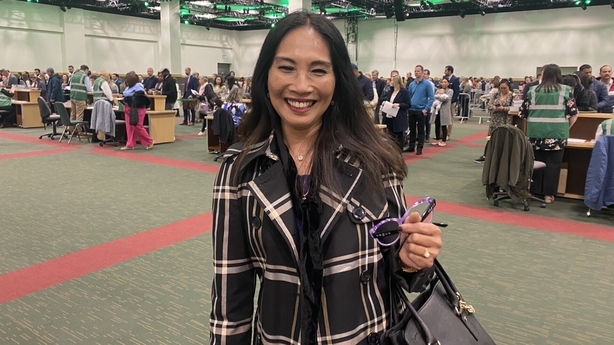 21 years later she calls it her "second country" and described receiving her Irish citizenship as a "blessing".
"Thank you Ireland," she smiled.
Chukwudi Ezeude hails from Nigeria, but now calls Ireland home.
He said that receiving his Irish citizenship felt like the final piece of a puzzle fitting into place.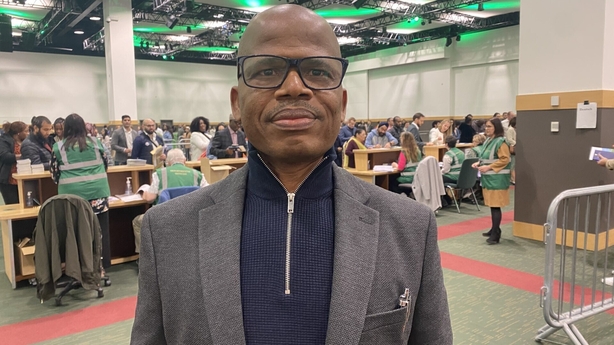 "Its very important for me, this is a milestone for my life," he said.
"I have four kids...I am the only exception, they are all Irish and I am not, so it has been quite a challenge but after this time, I will be so happy," he said, adding that he is looking forward to the family going on holiday together when he gets his Irish passport.
Ahmed El Sakka described being in a similar situation, as he too is the last in his family to secure Irish citizenship.
"My whole family are Irish citizens, my wife and we have three lovely girls," he explained.
Originally from Egypt and now living in Lucan in Co Dublin, he moved to Ireland to work on a cruise ship in 2016.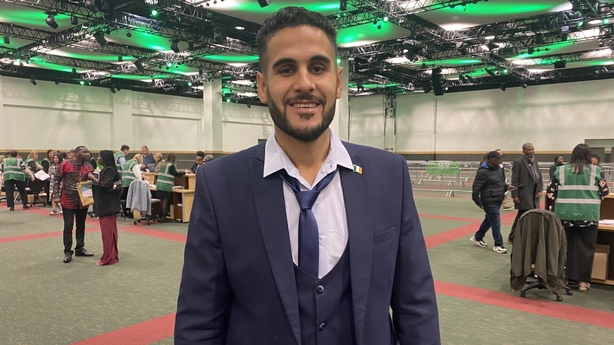 He described feeling "so proud today".
"It exactly feels like home, 100%," he added.
While some came to Ireland seeking refuge, others travelled for work or education and a few for love. It was faith that brought Mother Esther of the Holy Eucharist to these shores.
Originally from the Philippines, she has lived in Ireland for around seven years.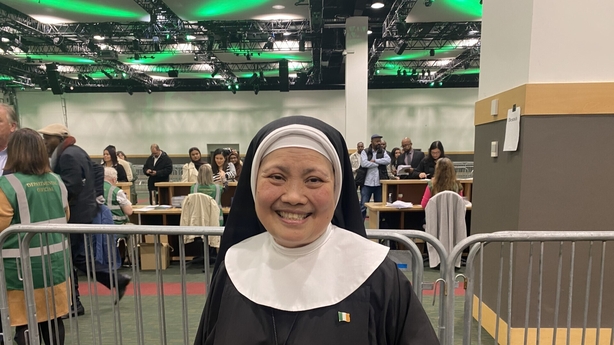 "It is a privilege to have citizenship because we are praying very much for this country," she said.
Outside the Convention Centre new Irish citizens Joan Banjako, Florence Onovo and Eanita Nana posed for a photo alongside their friend Lucy Semavor who came for moral support.
Ms Banjako, Ms Onovo and Ms Nana each proudly display the copy of the Irish Constitution which they received as part of the ceremony.
"I am overwhelmed. God did this!" Ms Onovo said, "We are very happy".