Irish citizenship ceremonies "send a very strong message" that Ireland "welcomes inward migration and value the contribution (new citizens) can make," the Minister for Justice said around 3,000 people from 131 countries participated in ceremonies at Dublin's Convention Centre.
People queued from 8.30am for the first of three ceremonies that got under way at 11am.
Recipients travelled from all 32 counties to attend the ceremonies, which bring to 171 the number of ceremonies held since their introduction in 2011, with some 165,000 people receiving citizenship.
Until 2011, citizenship was conferred at ordinary sittings in district courts, but large-scale ceremonies were introduced by then-justice minister Alan Shatter to provide dignity and ceremony to the occasions.
Minister Helen McEntee said: "It's a really important day and I think it sends a very strong message that they are welcome and a country where millions of our own people sought refuge, sought new lives on other shores, it shows that we can reciprocate and obviously we see the value in them contributing to our country as well."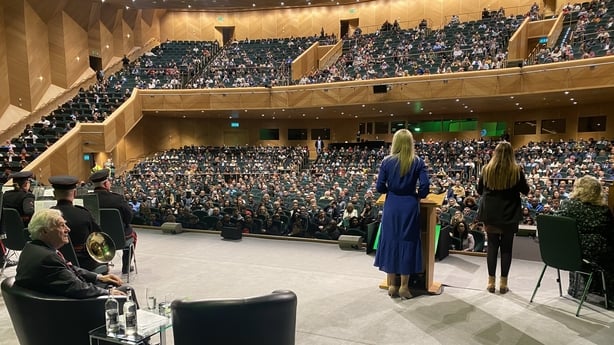 Speaking about ongoing delays faced by some who applied for naturalisation under a system that has since been replaced, the Minister said she "appreciated the frustration that people feel".
"We had a challenging time with Covid-19 which unfortunately meant there was a backlog and a build up and it meant further delays for many people," she said.
The Minister said she "certainly wanted to make progress on those backlogs".
"We have moved in so far as possible to an online system and for those who apply now it is obviously a quicker, faster process, but those who applied previously did apply under an older system so we are trying to work through them as quickly as possible, that's why we have three ceremonies here today, (and) we have another six coming up," Ms McEntee said.