Since the explosion at the Nova Kakhovka dam Oleksandra Pishcheiko, who moved to Ireland six years ago, has not been able to contact her grandparents.
Her grandfather Mykola and her grandmother Olga live in Russian-occupied Kherson, in the town of Hola Prystan, where Oleksandra, who is from Kyiv, spent many summers as a child.
It is on the southern or left bank of the Dnipro River, and like many people of their generation, her grandparents were determined to stay where they were, despite the ongoing war around them.
"My grandma is not really mobile. She's disabled, so there wasn't really a way to evacuate her. And yes it was a conscious decision for them to stay, because it's their land, their dogs, their chickens and they just didn't plan to leave."
They recently sent the family a picture of their new puppy which they were delighted with.
Since the war began, Oleksandra has been joined in Adamstown in West Dublin by her aunt Natalia who fled Russian-occupied Kherson, but her parents Mykola and Olga stayed behind. Oleksandra's own parents live in Kyiv.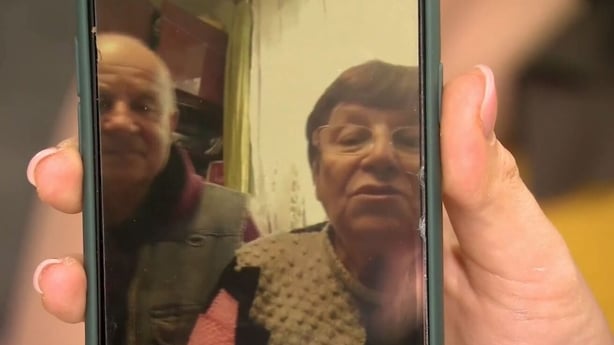 Yesterday, Natalia received a text message from Mykola and Olga, saying they hoped the slow-moving but vast flood waters would not reach their hometown of Hola Prystan, but since then the family has seen videos of what appears to be their street, with flood waters up as high as the roof.
With communications already sporadic and now electricity cut off, they have not had any contact since.
"My grandparents are in the town where the Russians are based," explains Oleksandra, "so the fire was both ways.
"It was in a very war-like state already and now it's just like the town will be vanished, because there are many old buildings that are like clay. It's brick on the outside, but the construction is from clay, in those old type of buildings, so they will be just gone, destroyed," Oleksandra added.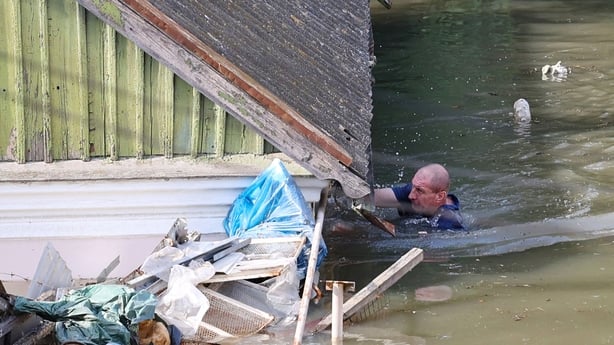 She says she has some friends still within the occupied territory in Kherson who have managed to evacuate as far as Odesa, where they are in temporary shelters, but she has not heard any news from her grandparents.
"Whoever is in the occupied territory, there is nothing really. No evacuation, they just can rely on themselves and relatives and friends. We are looking for connections just to try and find someone there who maybe saw them or something but for now, no good news."
She says watching videos sent to her from the area has been distressing, given the family are so far away in Ireland and unable to help.
"You can see on those videos that people are sitting on the roofs and on the trees and just like screaming for help and those animals, like the dogs just drowning. It's crazy, to watch it and observe it and not be able to do anything. It's just a catastrophe."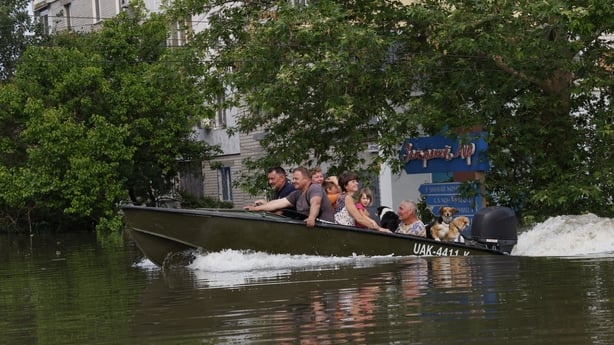 She says it is hard to understand the extent of the damage in the area now.
"There is a zoo a bit further from the town of my grandparents and... all the animals, it's confirmed that they are dead now... Of course, that reservoir of water was supplying the water for the fields, so whatever was growing, the farmers would take the water from there," she said.
Oleksandra now works in IT in Dublin and helps host a number of refugees who have fled the war.
She says she last saw her grandparents when she visited their hometown of Hola Prystan in July 2018.
She is hoping against hope that she hears from them again soon.