Minister for Education Norma Foley has refused to rule out proposals to get teachers to mark their own students' Leaving Certificate exam papers.
This is despite the Teachers' Union of Ireland voting overwhelmingly at their Congress in Cork today in favour of balloting for industrial action if asked to mark their own students' papers as part of proposed Senior Cycle reforms.
Questioned about the opposition to her plans, Minister Foley said the proposals on teacher-based assessment at Leaving Certificate are just a small part of overall reform of the Senior Cycle.
"I recognise too that change is never comfortable, change brings challenge, but I think the bottom line here is that it is in the best interests of students," she said.
"We are looking at a whole variety of mechanisms of assessment whether it is oral presentations, whether it is project work, and this aspect of assessment by teachers, when we look at international best practice, like the French Baccalauréat, there is a place for the assessment by teachers, but it will be heavily, heavily moderated by the State Examinations Commission.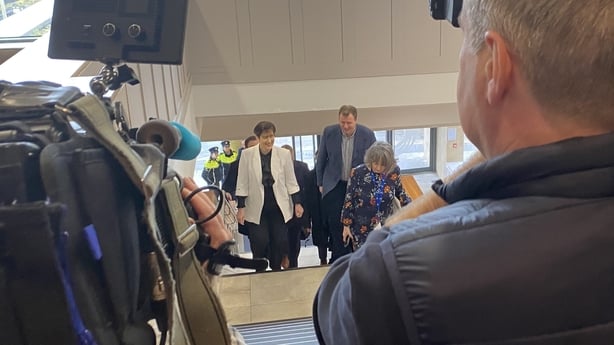 "So, I want to acknowledge that while there might be challenges, there might be uncomfortable aspects, it is my absolute intention to work through every step of the way in a collaborative and co-operative spirit."
Minister Foley's arrival to address congress was greeted by applause, while a small number of delegates raised posters with messages about Senior Cycle reform and homelessness once she began speaking.
Following Minister Foley's address to delegates, TUI President Liz Farrell responded, saying Senior Cycle reform and teacher assessment remains a red-line issue for the union.
"Senior Cycle change requires more than just resources and consultation, minister; it requires trust," she said.
"At the moment that trust is teetering on a knife edge. This is not the way to reform or redevelop what can only be described as an Irish institution.
"The Leaving Cert is part of the cultural fabric of Ireland; we've all done one, we all have an opinion on it but changing it will be even more difficult for you Minister if you don't bring us on board," Ms Farrell warned.