The terrorism threat level in Northern Ireland has been raised by the British government from 'substantial' to 'severe'.
It means that an attack is highly likely.
It comes ahead of an expected visit by US President Joe Biden to mark the 25th anniversary of the Good Friday Agreement.
The decision to change the threat level is taken by the British security service MI5, independently of ministers.
It follows the recent attempted murder of a senior PSNI detective in Omagh.
Detective Chief Inspector John Caldwell was shot and critically injured by two gunmen at a sports complex in the town.
There have been other attempts to kill police officers in recent months.
Northern Secretary Chris Heaton-Harris announced the increased threat level in a written statement.
"In recent months we have seen an increase in levels of activity relating to Northern Ireland related terrorism, which has targeted police officers serving their communities and also put at risk the lives of children and other members of the public.
"These attacks have no support as demonstrated by the reaction to the abhorrent attempted murder of DCI Caldwell.
"The public should remain vigilant but not be alarmed and continue to report any concerns they have to the PSNI."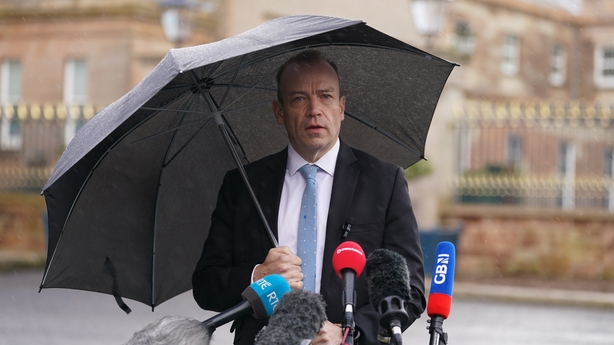 The threat level had only been reduced in March 2022 - the first time in a decade - after reduced levels of dissident republican activity.
PSNI Chief Constable Simon Byrne said that the independent assessment is part of an "ongoing process of monitoring the threat level in Northern Ireland, which is conducted by MI5".
"We have spoken publicly about the number of attacks that have taken place in recent months, not least the attempted murder of DCI John Caldwell," Mr Byrne said.
"We will relentlessly pursue those who seek to cause harm and terrorise our communities, and attack my officers and staff, and I pay tribute to them as they continue to deliver for our communities."
Mr Byrne added that he would like to thank the community and political leaders of Northern Ireland for their "overwhelming support for the Police Service in recent times".
"We will not be deterred from delivering a visible, accessible and responsive community focused policing service to keep people safe."
Speaking at Government Buildings, Minister for Justice Simon Harris said the increase in the threat level is "concerning and regrettable" a year after the level was raised from moderate to substantial.
Mr Harris said despite ongoing and significant work on the peace process "there remains to this day a real threat" to peace in Northern Ireland.
Addressing terrorist, paramilitary and splinter groups, he said those behind the threats are "morally vacant" and that people "should never lose sight of that".