Several hundred postgraduate researchers gathered outside Leinster House this morning to urge the Government to live up to a promise it made to address what they say are their increasingly untenable working terms and conditions.
The researchers say they should be classed as workers not students and should be entitled to worker benefits such as sick leave and maternity leave.
They say the stipends they are paid, which typically range from around €16,000 to €19,000 were set in the early 2000's and that they should be paid a living wage instead. A living wage payment would amount to between €25,000 to €28,000.
Speakers at the protest pointed to the significant contribution that PhD researchers make both to the Irish economy and to Irish society.
"We do teaching, demonstrating, and supervisory work, as well as our research projects," said Shauna Donohoe who is a PhD researcher at Trinity College.
"But the best case scenario for a postgraduate researcher is that you are being paid 22% below the minimum wage that's €7.88 an hour. In the middle of a cost-of-living crisis that's absolutely shameful".
"When you are paid at most €19,000 a year it's absolutely impossible to find an affordable place to live. It's impossible to cover the cost that goes with PhD Research, often you have to travel abroad but that's impossible to do on the stipends we are provided with," another PhD Researcher at Trinity College, Conor Reddy told RTÉ News.
"The average in Europe for a PhD researcher is €32,000 so it is much much higher than Ireland, yet we claim to be a knowledge economy and a research lead economy," he said.
There are around 11,000 postgraduate researchers in Ireland. One quarter of them are from outside of the EU. Those EU researchers face additional visa and other costs and restrictions.
'Messed-up system'
Priyanka Borpujari is a PhD researcher in DCU. She spent 15 years working as a journalist and in other jobs before she began her research project. But she says that in Ireland when it comes to visas and other requirements she is treated "like a twenty-year old" student. Priyanka says people like her are advising other talented researchers from outside the EU not to come to Ireland.
"It's an absolutely messed-up system here, there is no accommodation, there is no minimum wage, if I have a spouse they are not allowed to work. We love the craic here, we love the Guinness but we are telling people 'if you want to be a researcher don't come to Ireland, which is sad".
Shauna Donohue pointed out that Trinity College had recently taken the decision to increase the stipends that it funds to €25,000. She said this was in recognition of the fact that current levels were too low.
Trinity College said that the increased rate of €25,000 currently applied to just 15% of its PhD researchers.
It said the increased rate had been introduced to keep pace with the cost-of-living in Dublin, which is causing "enormous financial pressures" for many of them.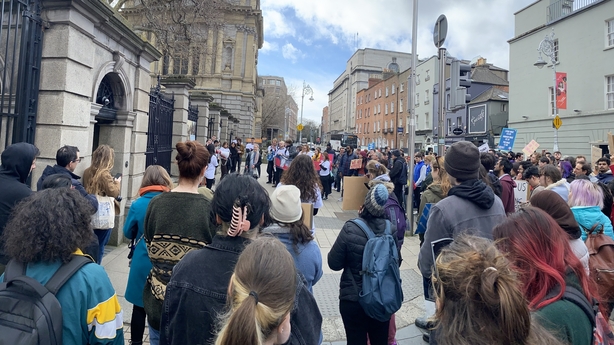 The Government funds many PhD students through bodies such as the Irish Research Council. It has set the stipend it pays at €19,000. Many PhD students are also obliged to pay fees of up to €7,000. In some cases, these fees are covered by other funding bodies.
Protestors said that without PhD researchers many of the country's universities would be unable to function. As well as carrying out important research they also deliver classes and lectures to undergraduate students.
They heard that for every €1 spent on research the exchequer saw a return of €1.67, and that Ireland is the only country in the EU where researchers are paid less than the minimum wage
The protest was organised by a newly formed trade union, the Postgraduate Workers' Organisation (PWO) which is affiliated to SIPTU.
The PWO has called on the Government to give a timeline for the introduction of an employee-based model for PhD researchers. In the immediate short-term, it wants Government to set a basic living standard in line with a living wage for researchers.
The group met the team currently conducting a review of the area two weeks ago and is due to meet them again next week.
The Government is currently carrying out a review of terms and conditions in the area.
Questioned in the Dáil by Richard Boyd Barrett of People Before Profit, the Tánaiste said it was an issue that was being addressed by the Minister for Further and Higher Education.
Responding to a question on the PhD researchers demand to be treated as workers, Micheál Martin said it would not be possible to just apply "one simplistic policy" to all PhD researchers.