An apartment viewing in Dublin today saw potential tenants gathering outside the complex, hopeful that this property might save them from being homeless at the end of the month.
The two-bedroom apartment on offer is in The Liberties at €2,100 a month.
Around 30 people viewed the property at lunchtime, each with their own story of despair, frustration and hope.
Amongst them, a couple and their two young sons, who are being evicted at the end of next week.
This was their first viewing after weeks of searching.
Also in the queue was Victoria Gavioli, who has been searching with her friend for the past two months.
"You don't get the viewings, you can send emails every day from 8am until 6pm and no answers," she said.
"It's really frustrating."
She said the prices for some places are "ridiculous" and there are many scams.
Ms Gavioli said she is lucky that she does not have an eviction notice but needs to move to more suitable accommodation.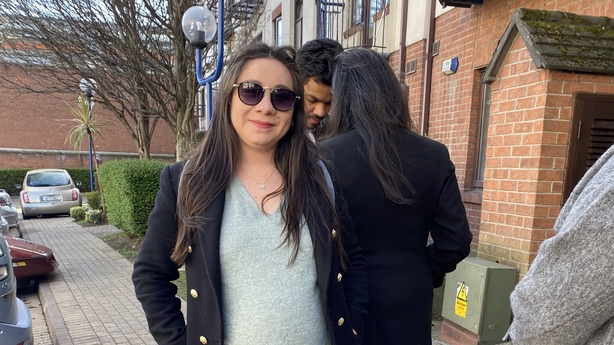 Esmeralda Cortes is due her first baby next month and is looking for a bigger home with her husband.
They have had 15 viewings over the past month but have had no luck securing a home.
They are currently living in a very small apartment paying €1,500 a month.
"We came here to see if it's available, but there are a lot of people here today," she said.
"It's a little bit stressful because the baby is due next month."
Aaron Kinsella said: "it's been pretty dire".
"We've been looking for places for over a month now, it's not feasible," he said.
Mr Kinsella said he started looking with his partner a month ago not realising how bad the situation is. He said they have been looking further and further out of Dublin trying to find somewhere to live.
The landlord is selling and they have to leave the house by 1 April.
"We were given six months but didn't expect the situation to be so bad," he said.
"I have seen 18 [properties]. It's been crazy, most of the time we don't get replies."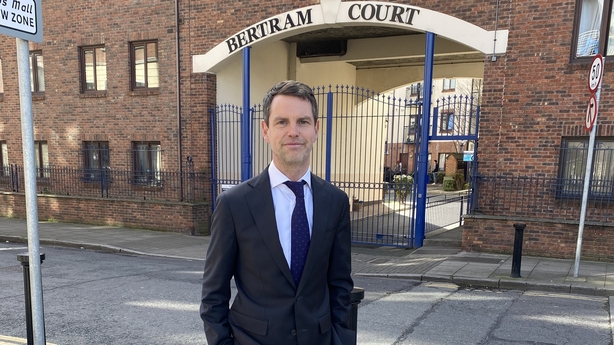 Brocke Delappe Estate Agents have had 535 applications for this apartment within 24 hours.
David Brocke said: "Obviously we can't invite 535 people here, so we selected 50 around 30 turned up."
"It's lunchtime, I'd say if it was 6pm we'd have a stronger response," he added.
"If something is within the rent caps you could have a 1,000 applications. "
He said property is very scarce. There are similiar stories outside of Dublin.
A family of six in Co Kildare fear becoming homeless for a second time.
'Mary' does not want to be identified because her children do not know the landlord wants to sell their home
They have been living there for three years after spending 14 months living in an hotel room.
"One of my kids was a newborn which was difficult at the time," she said.
Last week she was handed an eviction notice "out of the blue".
"I haven't been sleeping, I can't think straight, thinking every night where are we going to do what are we going to do".
Both her parents and her husband's parents are deceased, so they have no family to turn to for help.
She said they are lucky they have been given six months' notice, but she fears their only option will be to return to a hotel.
She is appealing to the local authority to find her a house and all the other families facing the same situation.