There was a 29% increase in hate crime and hate related incidents last year, according to gardaí.
A hate incident is recorded when it is believed to relate to a victim's age, disability, race, colour, nationality, ethnicity, religion, sexual orientation or gender.
Almost 600 such incidents were reported to gardaí last year, almost 200 more than in 2021.
Assistant Commissioner Paula Hilman said that while it was disappointing that any incidents occur that have a hate-related motive, it was positive to see more victims coming forward to An Garda Síochána and reporting their experiences.
She said the community needs to consistently highlight and call out discrimination and hate where it occurs and urged anyone who has experienced or observed prejudice to come forward.
The most prevalent discriminatory motive was race which accounted for a third of reported incidents (32%), followed by sexual orientation (22%) and nationality (21%).
Incidents were recorded across all nine discriminatory motives.
Hate motives were evident in a range of crimes committed in 2022, the largest percentage being public order (30%) followed by minor assaults (20%), assault causing harm (9%) and criminal damage (8%).
Almost half of hate related incidents (47%) reported last year occurred in Dublin, followed by the northwest, (20%), the east (18%) and the south (15%) of the country.
Across the other three operational regions there are quite similar proportions of incidents evident – Southern Region (15%), North Western Region (20%) Eastern Region (18%).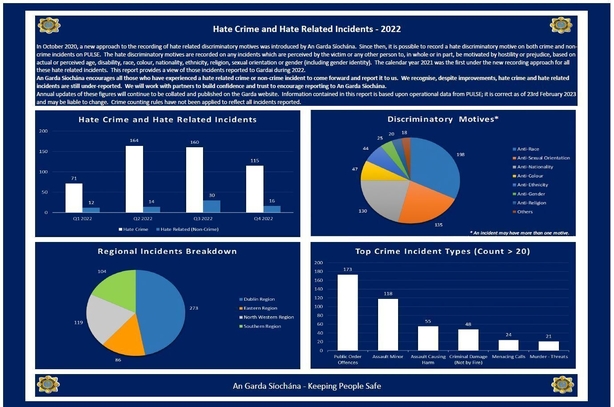 In one incident reported to gardaí, a woman from Eastern Europe, who was aged in her 50s, was approached by a man in his 30 who allegedly racially verbally abused her.
She was then punched twice in the face and kicked while she was on the ground. Charges in this case are pending before the Circuit Court.
In another incident, a man in his 20s was arrested for following homophobic abuse and public order offences.
Gardaí did not receive a complaint from the victims but witnessed the incident. The man was subsequently convicted and sentenced to three months imprisonment.
Another incident reported involved three young teenage boys who racially abused a security guard.
They were arrested and released into custody of their parents after they were cautioned under the Juvenile Diversion Programme.
---
Rise in reports of racist-related incidents last year
---
Other incidents included:
- A young black woman was the victim of an unprovoked attack. A customer, a man in his 20s, forcibly shouldered her out of way. He was convicted in the district court and sentenced to ten months in prison.
- A non-Irish white man in his 60s was verbally abused, threatened and intimidated by another man in his 60s, who was subsequently convicted in the district court and fined €2,000.
- A man in his 20s was convicted in the district court and fined €400 after he verbally abused a black Irish man in his 30s.
- A man reported seeing another young man being verbally and racially abused. The victim did not report the incident to gardaí but the perpetrator was caught. The man in his 20s was convicted of public order offences in the district court on the evidence of the witness and fined €300.
- A customer in his 30s, who racially abused a black man, also in his 30s, was issued with a Fixed Charge Notice under the Public Order Act and paid the fine.
- A man in his 20s, who verbally abused another man in his 20s with homophobic comments whilst the victim was out socialising with friends, was given an adult caution.
- Three teenage boys who subjected another teenage boy to homophobic comments and committed a minor assault were given Youth Diversion Programme Cautions under section 26 of the Children Act.