The Association of Garda Sergeants and Inspectors has called on the Minister for Justice to intervene in its dispute with the Garda Commissioner on the issue of rosters.
Some 200 members of the association from all over the country marched to Garda Headquarters and handed in a letter asking Drew Harris to return to negotiations.
The commissioner has referred the issue to the Workplace Relations Commission, a move which the AGSI says is "premature".
The AGSI also announced there would be a second protest in the next few weeks and that further industrial action would be discussed at its annual conference next month.
It has not ruled out the possibility of another so called 'blue flu'.
General Secretary Antoinnette Cunningham said it was "funny" that the commissioner had ruled it out last week because she said the issue of industrial action and what form it could take was a matter for their membership.
The AGSI said it is seriously concerned about the health and welfare of its members and has accused Commissioner Harris of trying to impose a roster without agreement.
Middle-ranking gardaí say their working arrangements have left them frustrated, stressed and angry.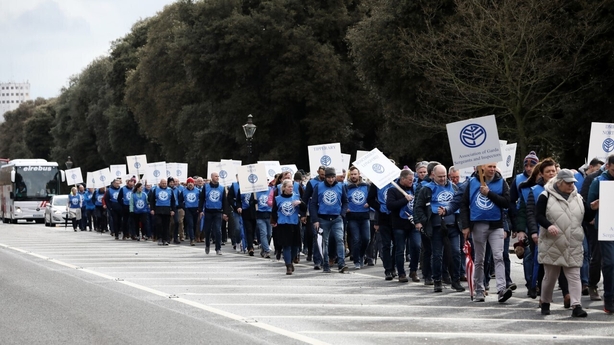 Their roster, which they agreed to as part of policing the Covid-19 pandemic has, they say, been extended 15 times in three years and commitments by the Garda Commissioner to return to their normal working pattern have not been honoured.
However, Commissioner Harris says he has tried hard for the last three and-a-half years to internally find a resolution and because that has not been possible, he has referred the matter to the WRC to resolve and conclude.
He has described today's protest as "unnecessary" and "unhelpful".
We need your consent to load this rte-player contentWe use rte-player to manage extra content that can set cookies on your device and collect data about your activity. Please review their details and accept them to load the content.Manage Preferences
Sergeants and Inspectors say the commissioner is trying to impose a roster upon them that would mean they would have to work 47 extra days a year and have just two days off in 14 days.
They handed in a letter at Garda Headquarters asking Mr Harris to re-engage at local level.
The association also said the Minister for Justice had also signed up to the dispute procedures and called on Simon Harris to intervene.
A statement from the Department of Justice said the "minister encourages continued engagement on this matter in order to find a solution which ensures that whatever roster is in place serves the public, especially the most vulnerable in society, and supports the health and well-being of members of An Garda Síochána".