Children will spend one hour a week learning a modern European language under a new primary school curriculum that will be phased in in the coming years.
There is no detail as yet on what any new primary school curriculum will look like, nor when these changes will begin to be felt in the classroom.
A framework to give overall shape to the new curriculum was announced today. Work on subject areas has begun but its introduction is still a number of years away.
The new framework sees the return of a modern European language to primary schools, allocating one hour per week to this from third class upwards.
A previous European languages initiative was shelved in 2012 as part of cutbacks introduced during the economic crash and there has been pressure since then to introduce a modern language.
Minister for Education Norma Foley said the framework was "very ambitious" and was the result of extensive consultation.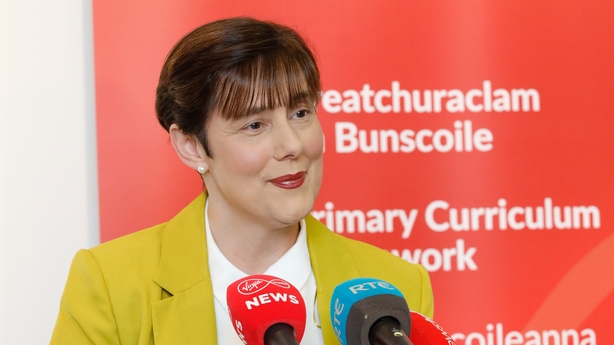 She said the first element to be introduced would be a new maths curriculum which was nearing completion.
The framework also reduces the obligatory time spent on religious instruction in primary schools from 2.5 hours per week to two hours. However schools are free to continue to spend 2.5 hours or more on the subject weekly if they wish to do so.
It will also increase the amount of time dedicated to subjects like PE and Social Personal and Health Education and reduces the minimum amount of time that English language schools give to Irish in senior classes by 30 minutes per week.
It also reduces the minimum required time for Maths in Junior and Senior Infants by 25 minutes each week.
But schools will be given between six and seven hours of "flexi-time" per week that they can allocate across subjects as they see fit.
Minister Foley said the new modern languages syllabus could be ready to introduce in schools by 2025.