When Úna Ni Chonaire Fulham opened her most recent bill from Electric Ireland she said she felt "shock" firstly, then thought "there has to be a mistake".
Una was charged €2,285 for a total of 71 days' usage from 1 December last year to 9 February this year.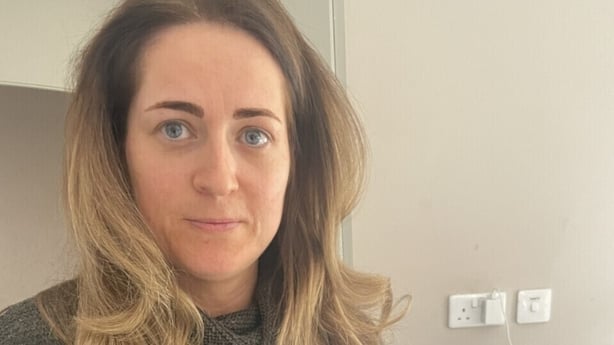 This compares to the previous estimated bill she received for €116 for a total of 64 days' usage after the the energy credit was deducted.
Úna, who shares a home in Co Meath with her husband and two children, told RTÉ's This Week programme that she was conscious of the household's energy usage, especially over Christmas.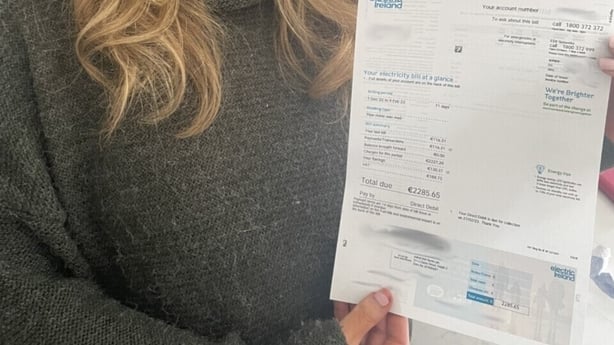 "How they think we have used that amount of electricity in 70 days is beyond me," Úna said.
"They're saying we used the equivalent of 5,500 kilowatts of electricity. My parents' usage all of last year was 5,800 kilowatts, they would have had students staying with them for a two-week period as we are in the Gaeltacht area here."
Úna said she had to cancel her direct debit with Electric Ireland.
"This is hanging over us, this is not a joke. We have two children, we've two cars on the road, we both work full-time ... there's no way we can pay a bill for €2,300," she said.
"Had the direct debit been taken out, insurance wouldn't have been paid, every other bill would have bounced as that's my month's wages gone."
Úna said the bill for €2,285 is always on her mind.
"I think it's the meter, we were so careful over the Christmas we are conscious about the cost of living," Úna said.
"We had a Christmas tree and that was it. Everything else was battery operated here over the Christmas period. We were careful, if the tree was switched on too early I'd be telling them to switch it off for another hour.
"We were careful as I was conscious of this bill coming in."
She said she has been in contact with Electric Ireland about her bill.
"I did get an email to say they were experiencing a high volume of calls and emails at the moment," she said.
In a statement Electric Ireland said "it apologises to the customer whose experience with our contact centre fell short of our standards. We will make contact with the customer and take this opportunity to encourage any customer with billing concerns to engage with us."
We need your consent to load this rte-player contentWe use rte-player to manage extra content that can set cookies on your device and collect data about your activity. Please review their details and accept them to load the content.Manage Preferences
'I don't intend to pay the bill'
Twenty minutes from Úna in Robinstown, Gerry Clarke, who keeps horses, said his recent electricity bill came in at €1,678.
Last year his electricity bill was €290 for the same billing period.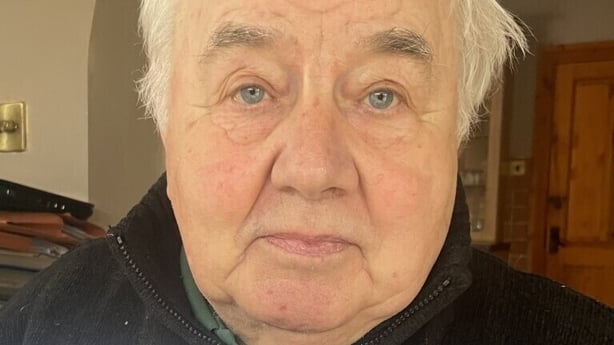 "I got a serious shock. It took a long time to gather myself. Nothing changed ... I don't intend to pay the bill, it's not due, it's not earned and it's not warranted," Mr Clarke said.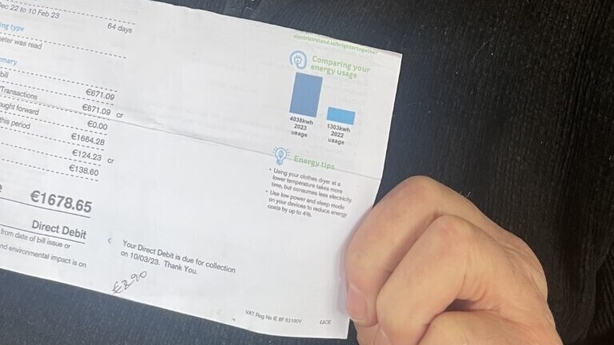 Muireann Lynch, who is a senior researcher with the ESRI, says almost all supply companies do allow customers to send through their own usage.
"You can check your own meter and you can text through what your meter currently is," Ms Lynch said.
"Now what can sometimes happen is, let's say your meter was read in September, and then they estimate your usage for November and then they read it again in January.
"If they underestimated your usage in November and then they read your meter in January then you can get hit with a very large bill because if they underestimated your usage in November then your January bill is actually paying some of your usage from September and October, which was underestimated at the time. "
Sinn Féin Meath West TD Johnny Guirke says he has been inundated with calls to his constituency office in Trim about high electricity bills in the past week.
"I suppose it's only now that people are getting those December/January bills through the door and I genuinely cannot understand how people are going to pay them," Mr Guirke said.
"Even when Electric Ireland do come back to people they're talking about putting them on a ten-week plan but what good is that for someone who owes a €1,000 for example and their only getting €200 a week?"
Electric Ireland also said that while they would not comment on individual customers, they did say they were committed to helping customers who were experiencing financial difficulties.
It encouraged those customers to engage with it to put a manageable payment plan in place.
It also said it increased its Hardship Fund to €5m late last year, a significant portion of which has been drawn down.