The first day of February marks St Brigid's day, the first day of Spring and the beginning of the ancient Celtic festival of Imbolg.
But this year, there is another first; the first public holiday dedicated to St Brigid will take place next Monday, 6 February.
This has driven a renewed interest in who Brigid was and where she came from, and the folklore that surrounds Brigid the saint and Brigid the ancient Celtic goddess.
Two counties in particular, claim great connections to her and have already started their celebrations.
Brigid of Kildare
Brigid's name is synonymous with Kildare, and it was here that crowds gathered last night on St Brigid's eve, the threshold of Spring, to celebrate.
A candlelight pilgrimage moved from St Brigid's well at the Japanese Gardens just outside Kildare town to the Solas Bhride centre, with song, prayers and reflection along the way.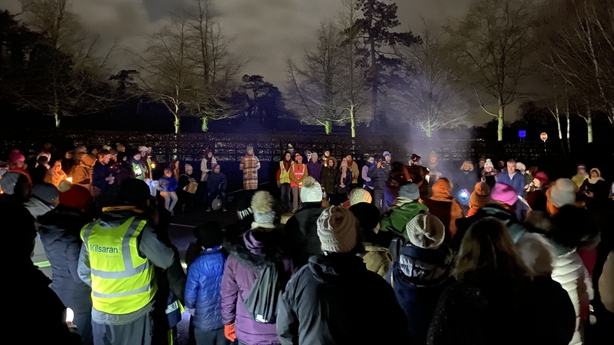 Sister Rita Minehan, a Brigidine Sister from the Christian spirituality centre, said this pilgrimage celebrates this time of new beginning, "as the earth is waking up from its winter sleep".
Sr Rita explained the Kildare connection.
"Kildare owes its existence to St Brigid. By building her monastery, we're told close to an oak grove, the name changed to Cill Dara, church of the oak", she said.
"She founded a double monastery for women and men and a church here in Kildare towards the end of the 5th century".
Sr Rita hailed St Brigid as a trailblazer of her time.
"She was an extraordinary spiritual leader, way ahead of her time. She blazed a trail for female leadership in Ireland in the 5th Century", she said.
Much ancient folklore is associated with St Brigid.
"Her life would have straddled the pre-Christian and the Christian era. So she would have inherited some of the folklore. So the values and the qualities, the respect for the elements, and her outreach to the poor and needy of her time".
Sr Rita said Brigid was "an extraordinary woman of peace".
With the new public holiday beginning this year, Sr Rita says this is a big year for Brigid.
"Going into 2024, we'll be marking the 1500th anniversary of the death of St Brigid. There are lots of events planned and Louth and Kildare will be working together, as there's particular devotion to Brigid there."
---
Read more:
Will the real St Brigid please stand up?
How Ireland used to celebrate St Brigid's Day in the past
St Brigid and the coming of spring
---
Brigid of Faughart
St Brigid's Shrine in Faughart, Co Louth, stands beneath a glade of towering beech trees, attracting visitors all year round.
While Kildare may be where she built her monastery, Brigid is also rooted here, where she is said to have been born.
"The tradition is that Brigid was born here, and lots of early stories are about her and this area", said Róisín Cotter, one of the organisers of the Brigid of Faughart Festival.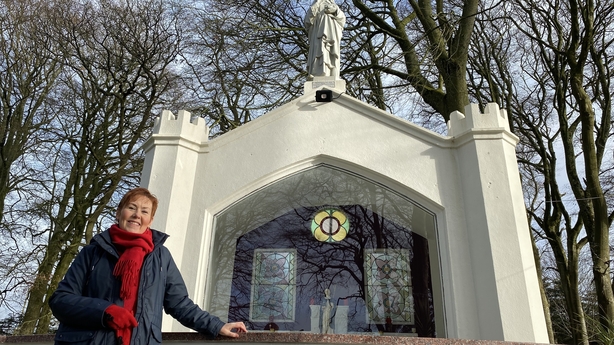 One of those stories is that Brigid was born over a threshold, as her mother was walking into a building, with one leg inside, and one leg outside.
Ms Cotter said this is a symbolic story that shows Brigid as someone who could bridge many divides in society, and bring different sides together.
"That story shows us that Brigid was a bridge; a bridge between her old religion - her father was a pagan- and the new religion, her mother was a Christian", said Ms Cotter
Just a stone's throw away from St Brigid's shrine, lie a number of large stones that many believe hold healing properties.
Some of those stones hold indentations that tell one story connecting Brigid to Faughart.
It was here she is said to have plucked out her own eye to make herself undesirable to a local Chieftian who wanted to marry her.
In Faughart, the stones hold the marks of where she knelt at the time, and the spot where legend says her eye landed.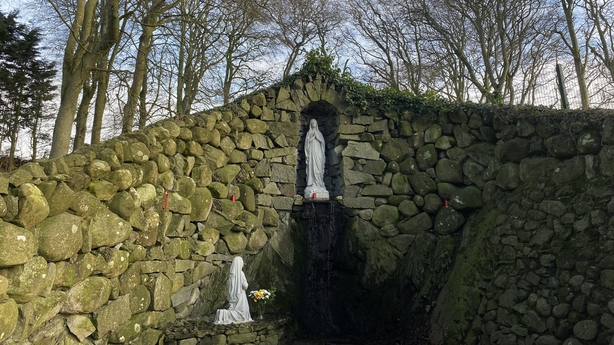 "When he (the Chieftian) came down he didn't recognise her and he left her alone. God restored her eye, she became beautiful again and then she was free to dedicate her life to God", said Ms Cotter.
Celtic and Christian tradition
Dolores Whelan has been working in the area of celtic spirituality for the last 30 years and is one of the founders of the festival.
She said pre-christian traditions were woven into the new religion that came around the time of Brigid, meaning both the saint and goddess known today share similar attributes.
"Celtic christianity was very much connected to the land. The imminence of God was hugely important; that was that you find God and the divine in everything. It was woven into a great relationship with the land.
"Brigid embodied many of the qualities of a much earlier goddess.
"We had goddesses, we also had saints. The saints were holy people, they were teachers, and they lived within a community. She (Brigid) was born here and eventually went to Kildare to set up a monastery, but she set up foundations all over Ireland."
St Brigid's Day coincides with Imbolg, an ancient Celtic festival, bringing together the symbolism of new life, spring and the connection to the land.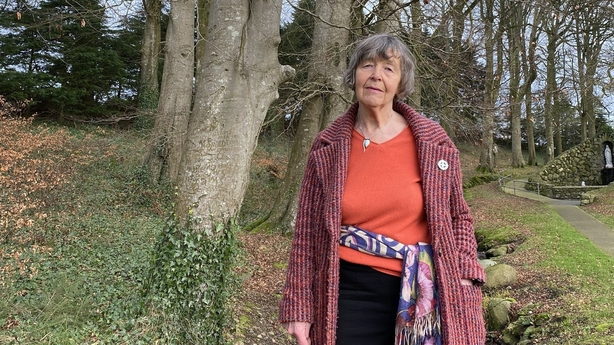 "Imbolg means in the the belly. It's about the time when birth starts to happen, it's on the cross between winter and spring".
Ms Whelan described the new public holiday this year named after St Brigid as "monumental", though she does not envisage the holiday being celebrated in the same way as St Patrick's Day.
"I think Brigid's day will be different. I think it will be a softer kind of a celebration than St Patrick's Day, but that won't mean it's not very effective.
"I would love to see people getting together and celebrating in their localities. I don't see Brigid's day as having big parades", she said.
The festival in Faughart has grown over the last 16 years into a week-long programme of events and interest has spiked in light of the new public holiday.
Ms Cotter said this is because of a growing interest in pre-Christian traditions and the relevance that St Brigid has in today's world.
"Her appeal is very enduring. People are very interested in all aspects of her, the saint, and the pre-christian Brigid as well.
"A lot of the stories connected to her are about her generosity, how she treated everyone evenly and welcomed everyone in. She has a lot of attributes pertinent to the times we are in now.
"She is a symbol of strength, generosity, of care for everyone, care for nature and the land".
In the nearby town of Dundalk - those two faces of Brigid, saint and goddess -, can be seen in a colourful mural by the artist Friz.
But this year, with a new public holiday in the calendar, the discussion about who she was and what she represents goes far beyond Louth and Kildare, the counties she is most connected to.