More than 11,600 people including almost 3,500 children were accessing emergency accommodation during the week leading up to Christmas, according to the latest homelessness figures.
The numbers are up from the previous record total of 11,542 which was recorded in the last week of November 2022, and have been described as "worrying" and "shameful" by experts working with homeless people.
The Department of Housing's just-released homelessness report indicated that 8,190 adults and 3,442 children were in emergency accommodation during the week of 19 December to 25 December last, the latest period for which figures are available.
This represents a record high in numbers for the sixth consecutive month.
Of the adults in emergency accommodation, 856 were single parents in family units and there were a total of 1,594 in such properties.
Well over half of the 8,190 adults in emergency accommodation were in the Dublin area - 5,793 - and the same trend was reported for children in emergency accommodation, with 2,543 in Dublin out of the total amount of 3,442 children in emergency accommodation across the State.
Meanwhile, Cork city and county accounted for 503 of the total number of adults in emergency accommodation during Christmas week; with 352 in Limerick, 272 in Galway, 205 in county Kildare and 185 in county Meath.
Irish nationals account for 61%, or 4,971 of the adults in emergency accommodation during that week, while people from the UK or the European Economic Area made up 22% of the total, numbering 1,826.
People from other countries amounted to 1,393 or 17% of all adults in emergency accommodation.
'Worrying levels'
Chief-executive of the Depaul charity, David Carroll, said the numbers of people in homelessness "remain at worrying levels" and called for targeted measures to tackle the scale of the problem.
"A critical time is approaching and Depaul is calling for a short extension of the eviction ban to allow for breathing space to put specific plans in place to target tenancies subject to a notice to quit," Mr Carroll said.
"Housing pressures are relentless and landlords who have signaled a notice to quit must be targeted in an effort to keep property owners in the market or to sell them to housing bodies."
He added that it is a "pivotal time" now and there is a critical need to accelerate the provision of emergency accommodation.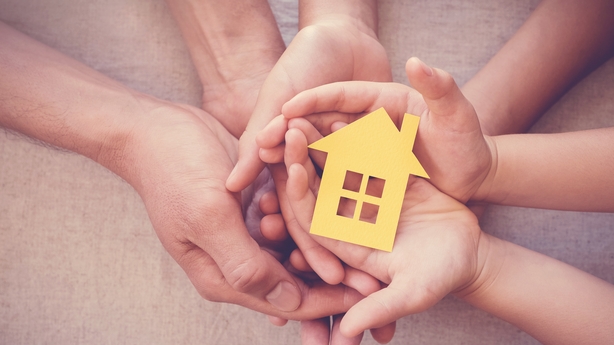 The CEO of Focus Ireland, Pat Dennigan, described the latest report as "shameful" and said the Government needs to take "far more urgent and effective action" to prevent the crisis deepening further.
"When we see a 30% rise in the last year completely wipe out the massive progress we made during the pandemic in 2021, when figures dropped to below 8,000 people, it is easy to just become despondent, but we need to use this setback to give us the impetus to take the steps that can change things," he said.
Mr Dennigan also said that while Focus Ireland welcomed the winter eviction ban, it was only a "breathing space" for the Government to introduce more lasting measures.
"The eviction ban is having a short-term positive impact by preventing families from losing their homes, but it does nothing to tackle the long-term shortage of homes which is driving homelessness," he said.
"While we welcome the positive indications about the overall number of homes built last year, the projections for next year and the continued failure to reach the social housing targets, the number of landlords wanting to sell-up and the new indications that the targets need to be increased all indicate that current plans are insufficient."
Figures 'profoundly upsetting'
The Executive Director of the Simon Communities of Ireland has described the latest homeless figures as "profoundly upsetting".
Wayne Stanley said the fact that homelessness has increased consistently across the 12 months of 2022 speaks to the urgency of which homelessness needs to be attacked in 2023.
Speaking on RTÉ's Drivetime, he said that the December figures were particularly shocking when respite is usually offered during a Christmas period so numbers tend to be lower.
He suggested that the cost-of-living crisis may be extending pressure on families. He said that homelessness increasing across the 12 months is not usually seen either.
He said looking ahead, he would expect Ireland will be in the same situation in March and if so, "we're going to have no choice but to extend it (the moratorium) on eviction as it will be unconscionable not to extend the moratorium and we have to start preparing for that looking at these figures".
He added that it is time to start looking at what can be done in the coming weeks and months that would mean the Government would not have to extend the moratorium on eviction.
No decision from Government
Minister for Housing Darragh O'Brien has said there has been no Government decision on extending the winter eviction ban.
"Any decision in relation to what happens post the eviction ban itself, which is due to end at the end of March but will be phased out up to the middle of June of this year, will be a matter for Government and Government colleagues in the future," he said.
Mr O'Brien said that while people are exiting homelessness there are a number of new presentations.
"That's why I brought in the temporary eviction ban and the winter eviction ban to give us time and space to be able to provide more accommodation and we are doing that and we intend to continue to [provide more accommodation]," he said.
Commenting on record homelessness figures, Mr O'Brien said it was a "difficult and challenging situation" but added there was a decline in the level of increase in the figures.
"It remains the number one priority for Government to actually ensure that we can exit people from homelessness into permanent housing solutions," he said.
He said the delivery of almost 30,000 homes showed the Government's housing plan was working.
"Having said all that, I'm acutely aware of the people and the families who are homeless," Mr O'Brien said.
"They're behind all these numbers. People, and families in a very difficult situation, and we're going to continue to do everything we can to ensure that we can reduce that level of homelessness."
Additional reporting Cillian Sherlock