Enoch Burke attended Wilson's Hospital School this afternoon despite being given until 2pm to purge his contempt or face a fine of €700 a day.
Mr Burke was dropped at the secondary school in Multyfarnham, Co Westmeath, this morning by his father Seán at 8.44am and left the school at 3.35pm.
Mr Burke is being fined for contempt of court, after he continued to attend his former workplace despite his dismissal last week. He claims he is being fined over the expression of his religious beliefs.
Speaking to reporters this afternoon, he said: "I don't believe I should pay a fine to practise my religious beliefs. I don't believe I should pay it. I'm putting it in the nicest possible way."
"A fine is a punishment where someone is ordered to pay a sum of money for something they've done that's illegal or a rule that's they've broken.
"I have not done anything illegal, I've not broken any rules."
Mr Burke made an appeal regarding the judgement handed down yesterday by Justice Brian O'Moore.
"I would beg him to reconsider his ruling. I would ask him to do that. Religious freedom is very important in this country. It's a very valuable right," he said.
"There's a reason why Article 44 is in the Constitution. Religious rights are one of the foundations of a functioning democracy, they are one of the foundations of a free nation and a free state," Mr Burke said.
"I've shown up for work today, as I have a right to do," he added.
The High Court yesterday ruled that Mr Burke is to be fined €700 a day if he does not agree to obey the court order to stay away from the school.
The court is to review the position at a hearing on 10 February at which it will also decide who is to pay - what the judge described as - the "potentially extremely expensive" costs of the ongoing "saga" so far.
Mr Justice Brian O'Moore said the daily fine, which will begin to take effect today, if Mr Burke does not purge his contempt, amounts to almost €5,000 a week.
He said this figure should persuade Mr Burke to end his "utterly pointless attendance" at a school which does not want him on its property.
But he said, if it does not have the desired effect, the fine could always be increased.
Judge O'Moore said if Mr Burke is continuing to defy court orders on 10 February, he will consider what level of daily fine is likely to change his behaviour.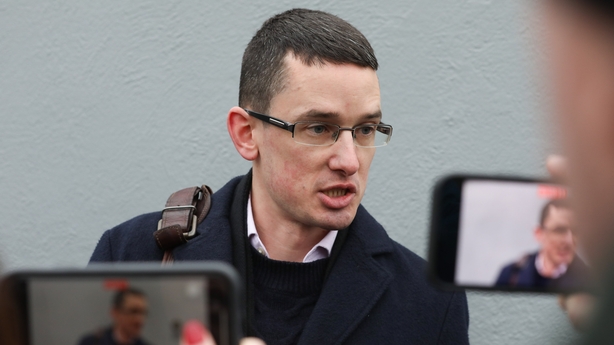 Mr Burke was dismissed from his position by the Board of Management of Wilson's Hospital last Friday following a chaotic disciplinary hearing.
The evangelical Christian was suspended from work on full pay last year pending the outcome of a disciplinary process, after a number of incidents stemming from a request from the secondary school's principal.
Mr Burke voiced on several occasions his opposition to the principal's request to address a transgender child by their name and refer to them by the pronoun, "they".
Subsequent events led to his suspension from his job at Wilson's Hospital School.
'Factual inaccuracies'
Meanwhile, as the deadline passed for Enoch Burke to purge his contempt, lawyers for Wilson's Hospital School went back to the High Court. They told the court that there were two "factual inaccuracies" in affidavits sworn by the Chairperson of the school's Board of Management to support the school's case for an injunction.
Senior Counsel, Alex White, told the High Court this afternoon that "an issue had arisen" which had only been discovered yesterday evening, after close of business.
The court was told that the issues related to an account of the original meeting where a student made a request to be called by a different name and for "they" pronouns to be used.
The Chairperson of the Board of Management, John Rogers had sworn an affidavit stating that the then principal of the school, Niamh McShane had attended this meeting.
This had also been stated in Ms McShane's report to the board, Mr White said, but in fact she was not present.
Mr White told the court the principal did look in and met the parties but was not present for the substantive portion of the meeting.
Mr White said the other factual inaccuracy was that Mr Rogers' affidavit referred to the parents of the student being present when it should say only one parent was in attendance.
Mr White said the affidavits were being corrected and he saw no reason for these inaccuracies to have any bearing on the orders already made in the case including the injunction granted to the school in September and the order fining Mr Burke for being in contempt of court.
Mr Justice Dignam said it was absolutely appropriate any inaccuracies should be corrected.
He said Mr Burke would have a different view on whether these had any bearing on the orders already mad and it was essential he be notified at the earliest possible opportunity.
He said the matter would be dealt with again on Tuesday morning.
Additional reporting Orla O'Donnell