Secondary school teacher Enoch Burke has refused to say whether he will purge his contempt or pay a fine for continuing to show up at Wilson's Hospital School in Multyfarnham, Co Westmeath.
Mr Burke, who has attended the school this week despite his dismissal last Friday, spoke to reporters as he left this evening.
The teacher said he has worked at the school for four years where he has served the other teachers and students well.
He said he was "ordered to accept transgenderism", which is something he couldn't do because it is against his religious beliefs.
Mr Burke said he received the judgement at 9.45am.
He was asked a number of times if he would pay the fine or purge his contempt, but he refused to answer.
Mr Burke criticised today's judgement describing it as a "stain on this nation, a stain on our land and a stain on our country's history".
"I am a young teacher, I've spent the last four years scraping together what I have for a house deposit and many others are like that also," he added.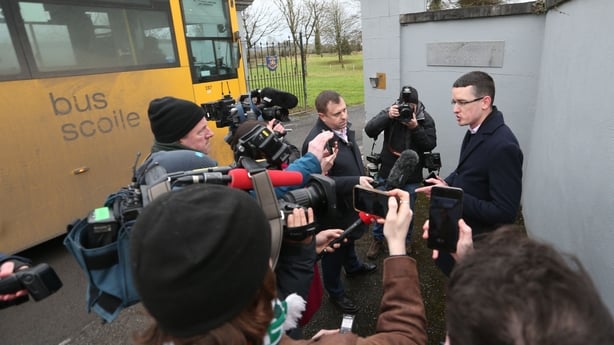 Burke to be fined daily if he does not obey court order
The High Court earlier ruled that secondary school teacher Enoch Burke is to be fined €700 a day if he does not agree to obey a court order by 2pm tomorrow.
The court is to review the position at a hearing on 10 February at which it will also decide who is to pay - what the judge described as - the "potentially extremely expensive" costs of the ongoing "saga" so far.
Mr Justice Brian O'Moore said the daily fine which will begin to take effect tomorrow if Mr Burke does not purge his contempt, amounts to almost €5,000 a week.
He said this figure should persuade Mr Burke to end his "utterly pointless attendance" at a school which does not want him on its property. But he said, if it does not have the desired effect, the fine could always be increased.
Judge O'Moore said if Mr Burke is continuing to defy court orders on 10 February, he will consider what level of daily fine is likely to change his behaviour.
Mr Burke was dismissed from his position by the Board of Management of Wilson's Hospital last Friday following a chaotic disciplinary hearing the previous day. He has another week or so to appeal that decision.
He turned up at the school grounds today for the third day since his dismissal.
Last Thursday, Mr Burke, his mother, sister Ammi, and brother Isaac loudly objected to the presence of two solicitors at the disciplinary meeting and to the absence of the Chairperson of the Board of Management, John Rogers. Mr Burke described the hearing as a "sham".
He was suspended from work on full pay last August after a number of incidents stemming from a request from a student's family for the student to be addressed by a new name and "they/them" pronouns to be used.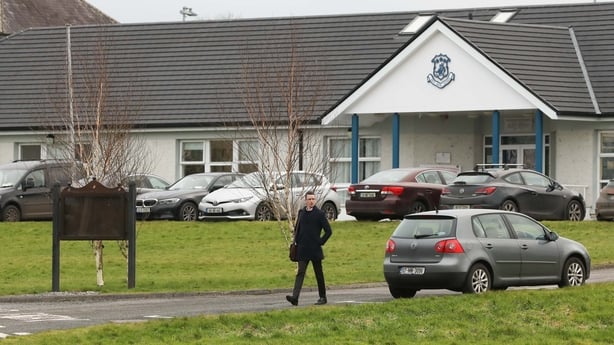 Mr Burke has said he was being asked to accept "transgenderism" which he said he could not do due to his religious beliefs.
He was jailed on 5 September for defying an injunction granted to the school directing him not to trespass.
After his release from prison before Christmas, he resumed attending the school after it reopened on 5 January.
In response, the school had asked the court to consider sequestering his assets or fining him.
Mr Justice O'Moore said Mr Burke had breached the court injunction consciously, deliberately and willfully on 5, 6 and 9 January.
He said it was clear that he intended to continue to go to the school and the reason he had given, that he was there "to work" was, the judge said, "quite surreal" given that he had not been provided with access to a classroom, had not been rostered to give lessons and had been asked to leave.
The judge said the essence of Mr Burke's submissions to the court was that the High Court order was void because in Mr Burke's view it was entirely misconceived.
Judge O'Moore said Mr Burke was placing his views above the High Court and by asking the judge to set aside another order of the court, he was asking him to do something constitutionally impermissible.
He said compliance with the court orders in no way compromised Mr Burke's religious beliefs and his continuing contempt of court required further measures to be taken.
He said it would be increasingly difficult in the medium term for the ongoing disruption at the school to be tolerated. And he said it was not in the public interest or consistent with the need to secure compliance with court orders for Mr Burke's ceaseless contempt of court to be ignored or dealt with in a way unlikely to be effective.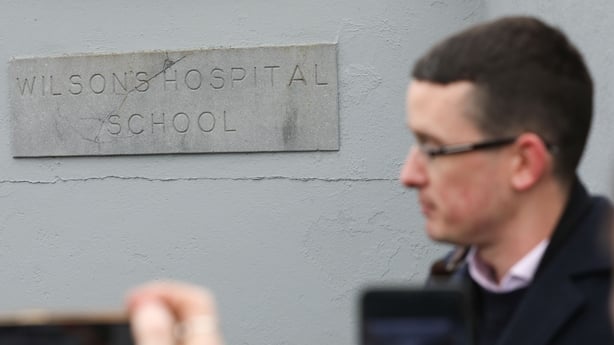 The judge said imprisoning Mr Burke again was not an "immediately attractive" option, given his previous finding that Mr Burke had exploited his imprisonment for his own ends. He said he would not direct his return to prison "for the moment".
The judge said the temporary deprivation of Mr Burke's assets did not seem likely to persuade him to comply and he had decided a daily fine which had a real impact on Mr Burke and his finances was the correct response.
Noting Mr Burke's refusal to give the court an account of his assets or income, the judge said Mr Burke claimed he had done nothing wrong. This was not correct, he said, adding that Mr Burke had unapologetically and repeatedly breached a court order, disrupting the operation of a school he professed to serve.
He said he had assessed the daily fine without assuming any continuing payment of salary to Mr Burke.
Neither party, he said, had come back to court to inform him of any developments which might affect his decision.
Mr Justice O'Moore said Mr Burke could, if he wished, tell the court he would obey the order to stay away from the school, and abide by the directions of the Board of Management, thereby seeking to purge his contempt.
If he did not do so by 2pm tomorrow, he said he would be subject to a fine of €700 per day or every part of day that passed until he did so or until the order was vacated.
The judge said the saga had led to a slew of potentially extremely expensive court appearances and he would decide the liability for the costs so far on 10 February.
Additional reporting Orla O'Donnell