Cork City Coroner Philip Comyn has said extreme vigilance is required when a dog's place in the home is displaced with the arrival of a new baby.
He was speaking at the inquest into the death of three-month-old baby Mia O'Connell, who died after being attacked by a family dog in her home in Waterford in June 2021.
The inquest heard that the one-year-old dachshund-terrier cross breed had snapped at baby Mia when he met her for the first time.
Handing down his verdict of death by misadventure, the coroner urged animal owners to educate themselves on dog aggression.
Mr Comyn said this was a particularly tragic death involving a very young baby and the family dog.
As someone who grew up with dogs, and who currently has two of them, he said he fully appreciates the wonderful benefits and companionship of dogs.
However, he said dogs are still animals and unpredictable, especially when its place is displaced by the arrival of a newcomer.
Mr Comyn said: "Extreme vigilance is required in such circumstances."
He added that the appropriate verdict in the case was misadventure, saying that it was clear from the evidence that this dog was unhappy with the arrival of baby Mia.
The court heard that he had snapped when he met her for the first time on her arrival home from hospital in February 2021.
This should, he said, have alerted everybody, especially the dog owner.
The dog, who was destroyed shortly afterwards, should not have been around children, certainly not unattended, the coroner said.
The court heard baby Mia of Mochua Terrace, Clashmore, in west Waterford died at Cork University Hospital in the early hours of bank holiday Monday, 7 June 2021.
We need your consent to load this rte-player contentWe use rte-player to manage extra content that can set cookies on your device and collect data about your activity. Please review their details and accept them to load the content.Manage Preferences
She had been savagely attacked by the family pet 'Red' in the bedroom of her home in the village of Clashmore.
Assistant State Pathologist Dr Margot Bolster said the baby had died of a traumatic brain injury, with haemorrhaging and shock from scalp lacerations, due to the attack by the dog.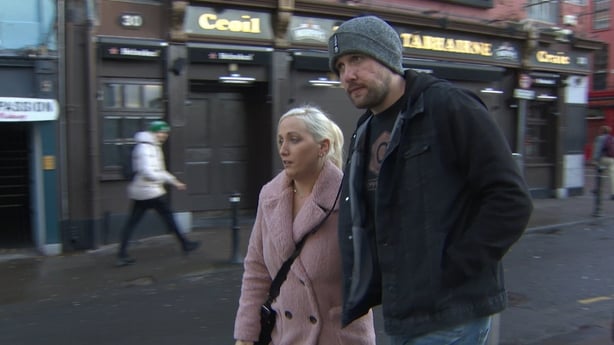 When the Dr Bolster had finished giving her evidence, baby Mia's father, Rhys O'Connell, who was not in the house at the time of the attack, asked her if his daughter would have suffered. His sister Heidi asked if she would have felt pain.
Dr Bolster replied it would have been very quick and that "she would have been unconscious very quickly".
Mr O'Connell and Ms O'Connell attended the inquest alongside Mia's grandmother Noreen O'Connell and her aunt Emily.
The baby's mother, Ella Wood, who was 20 years old at the time, did not attend.
However, in a statement she told the inquest that the couple and the baby were living in the rented terraced house with the baby's grandmother and her husband Barry Dillon.
She said Mr Dillon had got a rescue dog, which she described as "ugly". She said she loved animals but did not like this dog.
"There was something about him," Ms Wood said.
She added that he lived outside, but if the door was open, he would try to get in.
Ms Wood had put baby Mia to sleep in a small room in the house and left the door open.
However, later on in the evening, when her sister Emily went to check on her own son and baby Mia, she heard her screaming and found her on the landing with baby Mia.
The dog was on the landing too.
Grandmother started CPR on baby
Noreen O'Connell started CPR and Mr Dillon rang the emergency services.
She said there was blood around the baby's head and face and two big gashes on her head.
"I could see she wasn't responding, there was no pulse, her lips were blue, she was snow white," Ms O'Connell said.
She said the baby started crying after CPR but became unresponsive again.
Ms O'Connell said that when the baby came home from the hospital, the dog jumped up and snapped at the baby and that she had asked Mr Dillon to get rid of it.
She hated this dog, she said, but he did not get rid of it. She added that they are no longer together.
Emily Wood said she found the baby on the floor of the small bedroom. The dog was standing behind her.
There was blood around his mouth, she said. She said two ambulances eventually came and the paramedics started working on Mia.
The court was told that she was pronounced dead at Cork University Hospital shortly after 3.30am.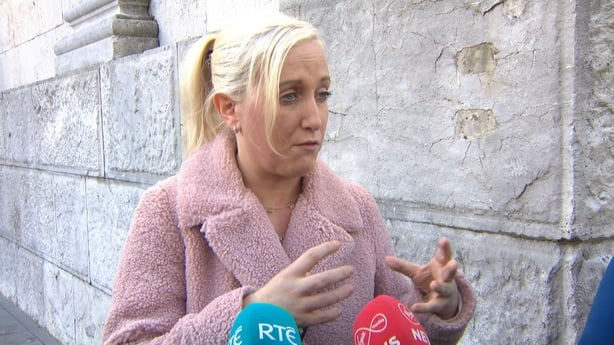 Offering his deepest sympathies to the family, Mr Comyn said there is no consolation for the family in this tragedy, but to bear in mind that the Dr Bolster said baby Mia would not have suffered.
Speaking after a verdict, Heidi O'Connell said: "It is still like a nightmare.
"Three months old, full of smiles, full of giggles, she was just taken away from us so abruptly, so tragically.
"We just don't know what to do."
She said she does not think she has said goodbye to Mia yet, and she does not think she ever will, but "she will always be here with us in our hearts and that is what we will hold onto".