Five thousand more beds are needed in the acute hospital system across the country, a hospital consultant has said.
Consultant in Emergency Medicine at Beaumont Hospital Peadar Gilligan said patients are receiving treatment "not in the manner that any of us would wish for it to be delivered" as they are sitting on chairs at the nurses' station or on trolleys in the assessment area.
Meanwhile, speaking ahead of his first Cabinet meeting this year and since again becoming Taoiseach, Leo Varadkar said there were 700 people on trolleys as of 8am this morning, according to the HSE.
A record 931 admitted patients were waiting for a hospital bed across the country yesterday, according to the Irish Nurses and Midwives Organisation.
This morning, it said there were 838 patients waiting for a bed.
The hospital worst affected is University Hospital Limerick with 76 patients, while 62 are waiting at Cork University Hospital, 51 at University Hospital Galway and 46 at Letterkenny University Hospital.
Last night, Minister for Health Stephen Donnelly described the overcrowding situation at hospitals as a "perfect storm" of flu, RSV and Covid.
The minister said that it was the HSE's view that the situation "is likely to get worse" and the system is "likely to see more pressure". He said it is believed the flu wave has not yet peaked.
"Anywhere that's working above 100% capacity is not safe and in Ireland now, it's not as safe as it should be," said Dr Gilligan.
Speaking on RTÉ's Morning Ireland, Dr Gilligan said that the 950 additional beds in the system is less than half the lowest estimate in the requirement of the system.
"5,000 additional beds need to be developed and there needs to a be a plan on how that is achieved in a timely manner, to avoid this reality for patients and staff into the future."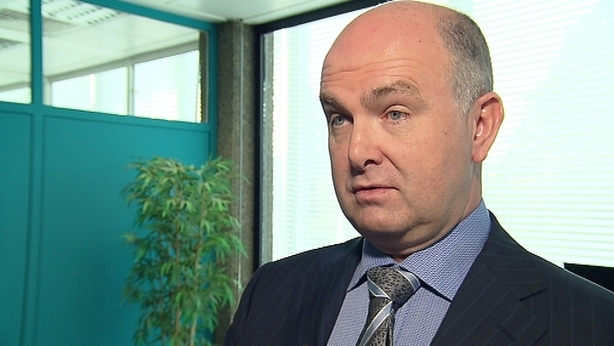 Role of General Practice needs to be expanded, says ICGP director
Dr Diarmuid Quinlan, a Cork-based GP and Medical Director at the Irish College of General Practitioners, has said that the latest figures from Cork and Kerry show that over the Christmas period between 23-28 December, GPs saw 6,980 patients and less than 7% were referred to an ED (less than 500).
Speaking on the same programme, Dr Quinlan said that over 90% of patients were seen within five hours.
"This shows GP [general practice] has a capacity to see very substantial numbers of people and treat them in a timely, effective fashion and divert the vast majority of them where required."
He said that the role of general practice needs to be further expanded, but that there is a substantial deficit in the number of GPs.
"While the number of hospital consultants has doubled in the last 15 years, the GP headcount has remained relatively static."
He also said that the number of GP nurses needed to be doubled.
Staff 'on overdrive'
Consultant in Emergency Medicine at Mayo General Hospital Dr Lisa Cunningham said staff are "on overdrive, over capacity, working constantly" to provide a standard of care to patients.
She said that she was "disappointed" by Minister for Health Stephen Donnelly's call for consultants to work weekends in the short-term.
"That's what I do already. I've been on since last Wednesday, I've worked all through the weekend, I'm on my fourth call in ten days," she told RTÉ's Drivetime.
"I had Monday off as a bank holiday but I'm working 10 days in a row. I'm on call every fifth weekend in the emergency department so it makes me sad that he hasn't acknowledged that this is what we do."
Dr Cunningham said they "literally have no physical space to see patients" and additional space could be a short-term support to hospitals.
She also said voluntary crews such as Order of Malta, St Johns Ambulance and the Irish Red Cross, who are supporting the national ambulance service should be allowed to be asked to assist to "do extra vitals" in hospitals.
Meanwhile, the Irish Patients Association has said it supports a call from the INMO for the mandatory wearing of face masks by members of the public for the next six weeks to minimise infections in congregated settings like pharmacies, supermarkets and places of worship.
Director of the IPA Stephen McMahon said this would be a preventative step to protect people from preventable death and injury, given too many people are at risk in the current crises.