The Minister for Health Stephen Donnelly has described the overcrowding situation at hospitals as a "perfect storm" of flu, RSV, Covid as well as the normal pressures facing hospitals.
The Minister said that it was the HSE's view that the situation "is likely to get worse" and the system is "likely to see more pressure". He said it is believed the flu wave has not yet peaked.
Mr Donnelly's comments come as a record 931 admitted patients are waiting for a hospital bed, according to the Irish Nurses and Midwives Organisation.
It is 171 cases higher than the previous record of overcrowding of 760 cases on 19 December.
Mr Donnelly met with senior HSE management. He said he will update Cabinet on the situation tomorrow and will meet the HSE management again on Friday.
The Minister visited a number of hospitals today, including St Vincent's and Beaumont Hospital in Dublin, where he spoke to reporters this evening.
He said that the Government is aware of the "very significant pressure" on patients and hospitals across the system, but said the situation is more severe in some hospitals than others.
He said that the Government's focus is on making sure all measures than can be taken are taken - including using all available private capacity.
He said the system has come under pressure despite what he called "unprecedented investment" in the health service since the Covid-19 pandemic.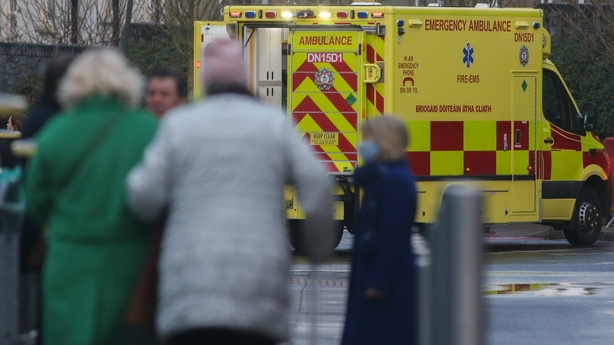 The hospital worst affected is University Hospital Limerick, with 97 patients waiting.
Other hospitals badly affected are University Hospital Cork with 74 patients waiting, St Vincent's University Hospital in Dublin with 56 patients, and University Hospital Galway and Letterkenny University Hospital - both with 52.
The INMO said 767 patients are on trolleys in emergency departments and 164 are on trolleys elsewhere in hospitals. Twenty-six children have also been admitted to hospital without a bed.
The Health Service Executive is urging people seeking medical care to consider all options before attending a hospital emergency department, in the wake of what it says will be "one of the busiest ever periods experienced by the health service".
In a statement, the HSE said that some patients will "regrettably experience long wait times in our emergency departments, urgent patients will always be prioritised for treatment and care".
It advised that community pharmacies, GPs and GP out-of-hours services and minor injury units can be visited by people who are unwell.
INMO calls for mask-wearing to be mandatory in congregated settings
Mr Donnelly said that he does not anticipate any change to public health advice from the Chief Medical Officer in terms of any mask mandate in congregated settings.
His comments come as the General Secretary of the Irish Nurses and Midwives Organisation Phil Ní Sheaghdha called for mask-wearing to be mandatory in all congregated settings.
"The public health advice to Government, to me at the moment, is not to move to mask mandates but obviously we will keep the situation under review on a daily and weekly basis," said Mr Donnelly this evening.
Speaking to RTÉ's News at One, Ms Ní Sheaghdha said the INMO has written to Mr Donnelly seeking a mask mandate, a call later supported by the Irish Congress of Trade Unions.
"We know that masks are cheap, they are efficient, and that when our hospitals can't cope, the Government has to intervene and provide assistance to our hospitals in a different way," Ms Ní Sheaghdha said.
She said the HSE is asking people not to attend emergency departments if it can be avoided, but added that "the call is falling in the wrong area".
"The problem is people are so sick now, they need to be admitted to hospital, but there aren't sufficient beds for them," she said.
"Not mandating, leaving it up to people themselves, clearly it's not working, if the respiratory illnesses are on the increase," Ms Ní Sheaghdha said.
"So it's a simple enough measure we believe it should have been taken much earlier," she added.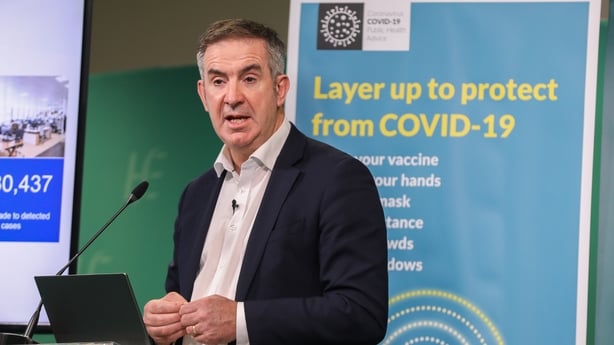 Private hospitals 'happy to assist'
The Private Hospitals Association said its members are "happy to again assist the State in managing the serious capacity issues currently facing the public system".
It said some private hospitals are providing assistance at various locations but said these arrangements are "both ad hoc and uncoordinated".
The PHA said a strategic partnership between public and private to address the problem on a multi-annual basis would be a more efficient way of dealing with capacity challenges.
It said the Department of Health, HSE, and the National Treatment Purchase Fund have been unable to progress with such a partnership proposal to date and are therefore relying on the traditional practice of reactive measures.
'Unprecedented' levels of respiratory illnesses
Earlier, HSE Chief Operations Officer Damien McCallion said emergency departments are becoming extremely busy due to the "unprecedented combination of very high levels of flu, Covid-19 and other respiratory illnesses in the community".
"Those who believe they may be seriously ill and require emergency care should of course come to hospital, but we would urge others to consider seeking support from pharmacists, GPs, GP Out of Hours Services and Minor Injury Units," Mr McCallion said.
Cases of Covid-19 and influenza continue to increase rapidly, while RSV cases, which had been declining for several weeks, are also now increasing.
Speaking on RTÉ's Morning Ireland, Mr McCallion said the advice to people to seek alternatives to attending emergency departments is set to continue for the next number of weeks and that while care in EDs currently is "far from ideal", clear protocols are in place to prioritise care for those who need it most.
He said that there were nearly 1,500 people in hospital this morning with respiratory illnesses, which is putting the system under significant pressure.
"Unfortunately, we do anticipate that that will continue for a number of weeks," he said.
"We haven't yet hit the peak of the flu season, but thankfully on the pediatric side we are starting to see some drop off in the RSV virus," Mr McCallion added.
We need your consent to load this rte-player contentWe use rte-player to manage extra content that can set cookies on your device and collect data about your activity. Please review their details and accept them to load the content.Manage Preferences
The HSE appeal also comes after a "major internal incident" was declared yesterday at University Hospital Limerick due to "record high attendances" at the hospital's emergency department.
In a statement, the UL Hospital group said the "unprecedented" number of people attending the emergency department has been driven by a surge in respiratory infections, including Covid-19, flu and RSV.
The group said this afternoon that while it was still experiencing significant pressure, it has eased a little since yesterday.
Chief Clinical Director of UL Hospitals Group Professor Brian Lenehan said there were 116 patients in the emergency department, with 50 awaiting admission and 39 on a trolley in a corridor.
He said he expects an action plan to be in place for 24 to 48 hours until the surge eases.
Consultant Physician and Geriatrician at University Hospital Limerick Professor Declan Lyons described the hospital as a "national basket case".
Speaking on Morning Ireland, he said he could not say whether people have died as a result of overcrowding, but that the conditions lead to mistakes and all they can do is advise junior doctors to provide the best medicine they can under the circumstances.
He said what was being seen is an accentuation of what the hospital has seen in the last few years: chronic and persistent overcrowding in the emergency department.
Prof Lyons said "conditions in many instances are inhumane" for patients and are not appropriate for the evaluation of patients who are sick.
Mercy University Hospital in Cork has also appealed to those needing less urgent treatment to avail of other care services where possible.
Visiting restrictions also continue at the hospital due to a spike in the number of patients presenting with flu, Covid-19 and winter vomiting.
Letterkenny University Hospital (LUH) remains "under significant pressure" as a result of high attendances along with Covid-19 and flu outbreaks at the hospital.
There were 116 attendances at the Emergency Department yesterday and as of 8am today, there are 56 patients awaiting admission in ED.
"All available beds are in use. Every effort is being made to discharge patients who are ready to go home so that beds will become available for patients who need to be admitted, at the earliest opportunity," the Saolta University Health Care Group said.
We need your consent to load this rte-player contentWe use rte-player to manage extra content that can set cookies on your device and collect data about your activity. Please review their details and accept them to load the content.Manage Preferences
Speaking on RTÉ's Today with Claire Byrne, communications officer for the Irish Association of Emergency Medicine Dr Fergal Hickey said the call by the HSE was not the right thing to do as a lot of people do not have a GP or cannot access a GP, while injury units are not suitable for people with respiratory issues.
"I think this is done in the absence of being able to do anything else", he said.
Dr Hickey said Ireland is short of acute hospital beds and that as a result, the systems have "fallen over spectacularly".
Consultant in Emergency Medicine Dr Mick Molloy has said people will die unnecessarily because they are not getting the care that they should get.
Speaking to RTÉ's Drivetime, the former president of the Irish Medical Organisation said the overcrowding issue was predicted.
"This is not a problem that was so unpredictable. In fact, there seems to be a growing acceptance of the numbers," he said.
"There are people who are deemed sick enough to need to stay in hospital but for whom there is no hospital bed, and this has been flagged since the year 2000 when there were reports done on the need for an enhanced acute hospital bed capacity, and we in fact have less open beds in the hospital now than we did in the year 2000.
"This was 23 years later and we now have a population that is over one million greater. There is an urgent need for a building programme to be commenced to expand capacity."
Meanwhile, Sinn Féin's spokesperson on Health David Cullinane has written to the chair of the Oireachtas Committee on Health asking that it be recalled as soon as is possible to discuss what he called a crisis in hospitals.
In his letter, he said it is vital that everything possible is done to support those on the front line and to relieve pressure on public health services.
Mr Cullinane said it was important to hear directly from the HSE as to what additional supports are being put in place and if its winter plan is sufficient to deal with the current emergency.
Additional reporting Fergal Bowers