Some 3,000 people were conferred with Irish citizenship at three separate ceremonies at the INEC in Killarney today, with a further 500 people due to receive their certificates of naturalisation tomorrow.
The applicants were drawn from 130 countries with the highest number of applicants from the UK (375), India (326), Pakistan (282), Poland (170), and Syrian Arab Republic (159).
Among the new Irish citizens was Hira Jabeen, a 32-year-old accounts administrator who works with builders' suppliers MD O'Shea in Killarney.
She brought along her 'Irish mother' Alice O'Sullivan to the ceremony as her special guest.
Ms O'Sullivan runs a bed and breakfast on the Cork Road and gave Ms Jabeen her first job when the young woman, who is originally from Pakistan, first came to the town.
She said it was a huge honour for her to be invited to the citizenship ceremony as Ms Jabeen's guest.
"I feel very honoured to be asked by Hira to today's ceremony. I know how hard this young lady has worked to get to this place. She answered an ad I put in the paper five years ago, and we are friends since."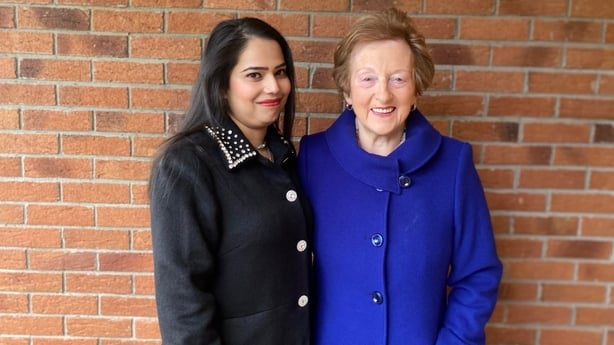 For Ms Jabeen, who lost her own mother in 2017, she said she is feeling delighted today and very proud.
"I have become an independent woman and my mother would be proud of me," she said.
From babies to older people, all ages were represented at today's ceremonies which were overseen by Presiding Officers, retired High Court Judge Bryan McMahon and retired Judge Paddy McMahon.
Minister of State James Brown welcomed the country's newest citizens, and emphasised the importance of this day, which will be a milestone in people's lives, he said.
For Gabriel Mihaila, who is originally from Romania, today was a very important day for both himself and his wife Mahella.
"I am over the moon and very emotional," he told RTÉ News.
Joanna Kliber, who is originally from Poland, said she was very excited about getting her citizenship after ten years.
"I am very happy that I have been granted (the citizenship). My hopes is to stay here forever, enjoy life, and do my job (nail artist), which I love."
Citizenship ceremonies were first introduced in 2011 and by the end of tomorrow there will have been 158 ceremonies in total with 155,000 people from over 180 countries receiving their certificate of naturalisation.
The ceremonies were first introduced in 2011 in order to mark the occasion of the granting of citizenship in a dignified and solemn manner.
This week's events will bring to 158 the number of ceremonies held, with over 155,000 people from more than 180 countries receiving Irish citizenship.