The Government has announced a road map for reducing food waste by 50% by 2030.
This is one of the targets in the Climate Action Plan and is in line with a UN sustainable development goal to cut global food waste by half by 2030.
Minister for Agriculture, Food and the Marine Charlie McConalogue and Minister of State for the Circular Economy Ossian Smyth launched their plan at Food Cloud headquarters in Tallaght.
Food Cloud is a social enterprise which connects companies with unwanted or unsold food to charities or communities who need food.
Food Cloud Co-Founder Aoibheann O'Brien said some of the food is approaching its sell by or best before date.
There are also items which are surplus because it can be hard for companies to plan exactly how much to produce or fruit and vegetables, which though edible and nutritious, do not make the grade because of size or appearance.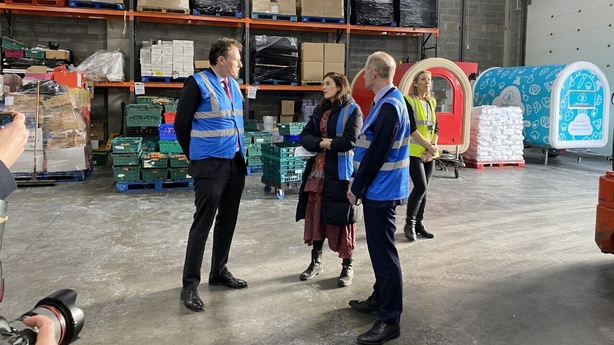 "Last year we rescued 3,300 tonnes of food, that's about 10,000 of carbon equivalent saving and obviously every bit counts at the moment when we're trying to reduce our emissions," Ms O'Brien said.
Although Food Cloud is an example of what can be achieved through good practice, what it saves is not even one percent of Ireland's food waste.
The Environmental Protection Agency estimates about 770,316 tonnes of food was wasted in Ireland.
Households were the biggest producers accounting for 31%, next was the manufacturing and processing sector with 29%. The remainder came from restaurants and food service (23%), primary production (9%) and retail and other distribution of food accounted for 8%.
We need your consent to load this rte-player contentWe use rte-player to manage extra content that can set cookies on your device and collect data about your activity. Please review their details and accept them to load the content.Manage Preferences
Minister Smyth said one of the first tasks in the plan to cut food waste will be getting better information on exactly how much food is thrown away and where this is happening.
"In a lot of sectors we don't even know how much food waste is being produced, so putting in systems, some of this will be high tech.
"For example you think of a canteen where a lot of food is being thrown away, they're putting cameras in some of them and weighing scales, automatically, basically a robot sees what is not being eaten," he said.
This enables the kitchen to change menus or portion size to reduce waste. He pointed to the canteen at Dublin City University's Glasnevin campus as an example of this type of project.
While there is still much work to be done to get to the 50% cut in food waste, Minister McConalogue said it will bring great benefits.
He said, on average an Irish family will spend €700 a year on food that is wasted.
"Globally food waste accounts for between 8% and 10% of total global emissions, so if we can cut down the amount of food that is wasted it's one of the most significant things that any family or any person can do," he said.