The Taoiseach has said that the Government has some concerns around the timing of toll increases.
Micheál Martin said that it was a decision taken by Transport Infrastructure Ireland and that he would like to see details of TII's plan to increase tolls.
His comments were echoed by Tánaiste Leo Varadkar who said that TII was planning a "very steep increase".
Toll charges on most toll roads around the country are to increase to their "maximum level" from 1 January 2023.
The price hikes are linked to the current rate of inflation, which has increased by 8.6% between August 2021 and August 2022.
The tolls cannot be increased beyond this rate.
Mr Varadkar said that he did not believe there was a requirement on TII to impose a "maximum toll" and that he would like to engage with the organisation further on this matter.
He added that he had not been able to speak with the Transport Minister Eamon Ryan about the increase as he is at COP27 in Egypt.
However, the Tánaiste reiterated that the news definitely was not welcome, came at a bad time and he was surprised to hear about the plan.
Speaking during Leaders' Questions in the Dáil, Mr Varadkar said the Government will take it up with TII when it publishes details of the proposals.
There are ten toll roads on the national road network.
Eight are operated under a Public Private Partnership (PPP) model, while two - the M50 and Dublin Port Tunnel - are operated directly on behalf of TII.
The Dublin Port Tunnel is the only route that will not be affected by price increases.
TII said revenue is used for purposes including motorway maintenance, toll collection and operations, and for the maintenance of the wider national road network.
We need your consent to load this rte-player contentWe use rte-player to manage extra content that can set cookies on your device and collect data about your activity. Please review their details and accept them to load the content.Manage Preferences
Mr Varadkar told the Dáil that news of the price rises "came as a surprise to Government - certainly came as a surprise to me - and we're not happy about it".
"News of the increase is not welcome," he told Sinn Féin TD David Cullinane who had blamed "gold-plated Fianna Fáil-era contracts".
Deputy Cullinane said that rural areas will be hardest hit by the increases.
Aontú leader Peadar Tóibín Mr Tóibín said the increases were an "absolute disgrace".
"People are now paying extra tolls for the joy of sitting in traffic for three hours", he said.
"The Government owns the M50 and Eastlink Bridge", he added, and said that "you could scrap those tolls right now if you wished".
Mr Tóibín said his research shows that commuters have already paid €1.2bn in last nine years in M50 tolls, and so "have paid for this infrastructure ten times over".
'Like a bolt out of the blue for everyone'
Labour's Spokesperson on Transport Duncan Smith called on the Government to implement a price freeze on tolls.
Speaking on RTÉ's News At One, he said the move comes "in the midst of a cost-of-living crisis where commuters, workers and transport companies are pinned to their collar".
He said the State "can talk to the companies that run these tolls and it will be up to the State to renew these contracts at some stage".
Mr Smith said: "This is a State contract, this is State money that they are getting, it's the people of the State who are paying these tolls."
This has landed "like a bolt out of the blue for everyone, Government and opposition alike", he said and "we need further explanation on it".
Speaking on the same programme, the President of the Irish Road Haulage Association said he "just can't believe" that toll prices are being increased and the increase will have a "very big impact" on the road haulage sector.
Eugene Drennan said: "We are categorised at the top of the pile. We pay the most money on tolls. It's nonsense.
"And now this increase of just short of 10% in a medium sized transport business to the south, southwest and west of Ireland who are doing the longest journeys and going through most of the tolls, it probably has increased their bills somewhere around €20,000 to €30,000 today."
He dismissed claims by TII that the price rises are needed to further improve the rest of the national road network as "nonsense".
"The infrastructure is already there. This is only further taxation, it doesn't matter what label you put on it. It's further taxation on a highly a highly taxed environment," he said.
A spokesperson for the Department of Transport said that the Board of Transport Infrastructure Ireland approved the toll changes.
They said that any increase can only take place within these Bye-Laws governing each toll road and based on the consumer price index.
They added that increases were imposed on eight roads for 2022 due to inflation, and that prior to this, charges had not increased since 2013.
M50 tolls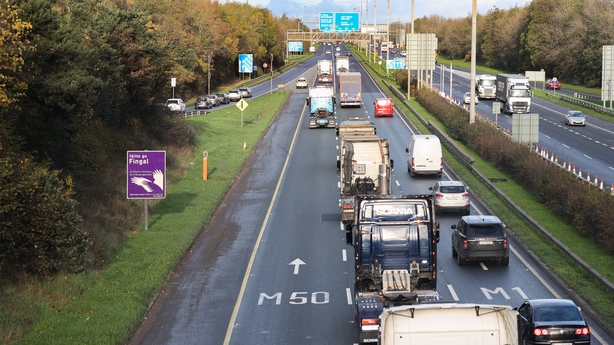 Toll prices for car and bus journeys on the M50 will increase by either 20 cent or 30 cent depending on the payment method.
For tag users, they will rise from €2.10 to €2.30, while those captured on video will rise from €2.70 to €2.90.
The toll for unregistered cars will increase by 30 cent from €3.20 to €3.50.
The price for goods vehicles using the M50 will also rise by between 20 cent and 60 cent per journey, depending on the size of the vehicle and the payment method.
TII said that there has been no price increases for cars using the tag payment method for the last 10 years.
In a statement it said that M50 tolls pay for the maintenance and operation of the motorway and that a deferment of the toll increase would have meant funding would need to be reallocated from other national road projects and a reduction in funding for asset management and renewal activities.
PPP tolls
The eight other toll roads operated by PPP companies submitted their toll charge calculations to increase to the maximum level as part of their annual plans.
These increases were reviewed and agreed with by Transport Infrastructure Ireland.
TII said there have been minimal increases in these tolls in the last decade apart from 2022.
The price for a car using the M4 motorway will jump by 20 cent, from €3.00 to €3.20.
While a car using the other seven toll roads (M1, M3, M7/M8, M8, N6, N25WF, N18-LT) will be charged 10 cent more.
Dublin Port Tunnel
There will be no price increases for motorists using the Dublin Port Tunnel.
HGVs currently travel toll-free through the port tunnel.
TII said that tolling on this route is intended to manage demand at peak times and ensure HGV movements to and from Dublin Port are not impeded with additional traffic and congestion.
It said that there is no current justification for raising the toll charges on non-HGVs, given the fact that the current arrangements are effective for managing demand.
It is not yet clear whether toll charges on the Dublin's Eastlink Bridge will also increase.
A spokesperson for Dublin City Council, which operates this bridge, said rates are reviewed each year, and it would be premature to comment until that process is complete.
The rise in toll charges are "significant increases" and happening at a time when motorists are feeling the pinch already with price hikes, Paddy Comyn, Head of Communication at AA Ireland has said.
He said the reason for the increase is for the general upkeep of the tolled roads and they will happen across the motorway network except for the Port Tunnel.
The M50, the country's busiest motorway, brought in €140 million in tolls and fines last year, Mr Comyn said.
He said the M50 was the "victim of bad planning" with constant changes being made to improve it.
With additional reporting by Tommy Meskill